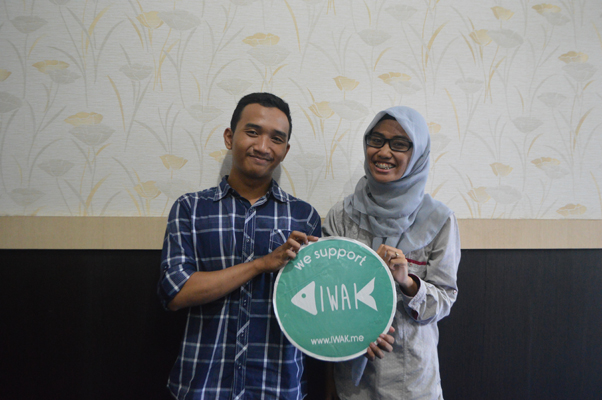 A new investment programme has been created by university students. IWAK, an investment programme based on community empowerment, has been developed by students of Universitas Gadjah Mada.
Chairman of IWAK development, Hestyriani Anisa Widyaningsih said IWAK was a community empowerment through fresh water fish farming. The programme provides the platform for investors to connect with farmers.
"Making investment through IWAK gives benefits to investors and generate prosperity for community as this programme empowers the grassroots level," she said on Wednesday (10/2) in the office of Enterpreneur Development Services (EDS) at UGM.
Nisa explained this project started after her friend told her concerns of the poor condition of residents from Kebon Agung village, Nganjuk regency in East Java. Many are unemployed there while most are disadvantaged. Nisa then worked with fellow students Ade Armyanta Yusfantri, Anggita Arum Pertiwi, and Rian Adam Rajagede, were trying to develop a business to increase the welfare of these people.
"As high as 88 percent of land in the Kebon Agung village are underused. We thought we could use them for freshwater fish farming," said the alumnus of Japanese Literature Department UGM.
Nisa explained, after they found an investor, IWAK will allocate 2-3 fish ponds to farmers for cultivation right from start. The pond is portable, measuring 4×1 meter.
"We offer investments ranging from IDR150 thousands to 15 million."
Currently, there is only one choice of fish,namely, catfish, but they plan to add more types of fish in the future. The students provides additional support to farmers, including training on freshwater fish cultivation from experts.
"The production results will be sold to traders with the revenue is shared among investor, management team, and farmers," she said. Investors receive up to 55 percent of profit every two months at harvesting time. Investment lasts for 3.5 years.
What if the production fails? Nisa said they would cover the failure by using the collective funds that are gained from any investments and profits.
Ade added investors would receive daily reports on the fish ponds they invest in. Investors are able to see information on the development through the iwak.me website that informs them about farmers, operator, investment fund, pond condition and transparent financial reports.
Since the start of the pilot project in Kebon Agung last November, IWAK has produced first production by early 2016. Currently, they have 15 investors from Yogyakarta and Jakarta, employing three families that manage six ponds.
The student's innovation has won second place during the Asean Young Socialpreneurs Program 2015 as well as being a nominator for Indonesia ICT Award 2015.