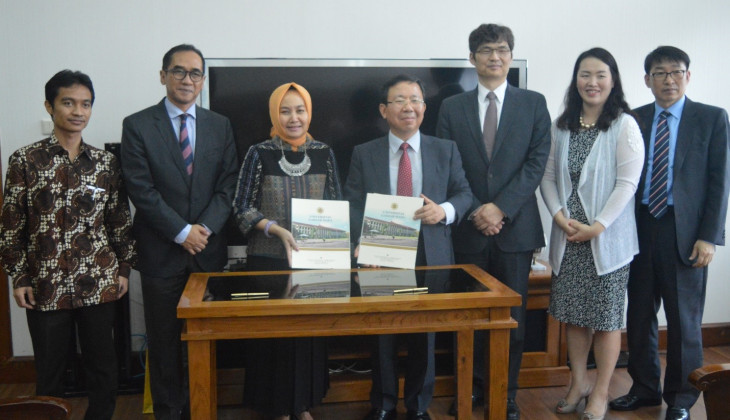 Rector of Universitas Gadjah Mada (UGM), Prof. Ir. Dwikorita Karnawati, M.Sc., Ph.D., and President of University of Seoul, Dr. Won Yunhi, signed a Memorandum of Understanding (MoU) between both universitas on Tuesday (16/2). The signing of the MoU marks the start of the cooperation in promoting exchange in academic and cultural affairs.

In his remarks, Won Yunhi explained the history of University of Seoul and its role in the synergistic development of Seoul city. As a state university supported by the city government, University of Seoul carried out activities that contribute to the development of community and society. They also have the mission to educate students to become competent leaders and produce human resource with high skills and education for the future.

So, University of Seoul opened study programmes to meet the need for development and address problems both in Seoul or South Korea in general. "Currently, we have graduate programme in international urban sciences. In the past few years, we have invited many public officials from various countries to study there, including from Indonesia," he said.
Through this cooperation, he hoped students from both universities can share knowledge and experience from each other. So, UGM and University of Seoul can more develop its expertise.

Rector of UGM, Prof. Ir. Dwikorita Karnawati, welcomed this, appreciating the trust given by University of Seoul to form a cooperation with UGM. "We were very honoured to be able to establish a relation with University of Seoul and we are looking forward to having productive cooperation in the future," said she.

President of University of Seoul in his visit was accompanied by Deputy for International Affairs, Dr. Kang Myounggu, Executive Secretary, Mr. Lee Keunjoo, and Coordinator for Senior Programme, Shin Eunhwa. UGM Rector was accompanied by Vice-Rector for Cooperation and Alumni, Dr. Paripurna, S.H., M.Hum., LL.M., and Secretary of Partnership, Alumni, and International Affairs Directorate, Dr. Danang Srihadmoko, M.Sc.