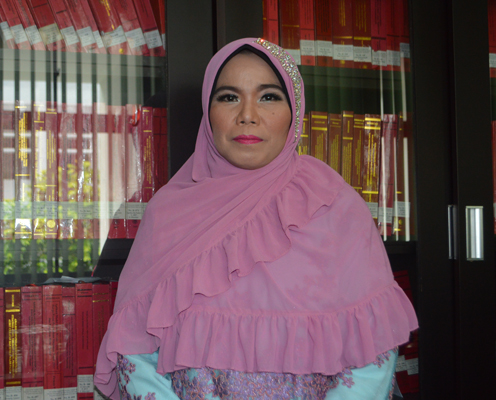 Computer Science Student Association (HIMAKOM) of Mathematics and Natural Sciences Faculty together with Lenovo Indonesia held a workshop entitled Integrating Technology and Initiation of Movement in the Auditorium of the Mathematics and Sciences Faculty, Tuesday (23/2), at Universitas Gadjah Mada. This activity is part of socialization program of Siap Maju (Ready Forward) from Lenovo which aims to encourage young people to empower communities through technology.
Agus Harjoko, Ph.D., Head of the Department of Computer Science and Electronics, welcomed the convening of workshops and outreach Siap Maju program initiated by Lenovo Indonesia. According to Agus, young people who understand technology should indeed be facilitated to realize their dreams so they can take part in the community. "We want young people, through technology, to be able to expedite the country's growth by their own way," he said.
Diantika, Chief of Consumer Marketing of Lenovo, said the program was held to encourage young people to pursue their dream. "We want to facilitate them to make their dreams come true," she said.
The program is expected to support young people to do inspirational things and make changes among society. The youths who are interested in this program can apply through the siapmaju.lenovo.com website and share ideas and inspirational activities. Furthermore, Lenovo will select 10 winners from all over Indonesia who will later have the opportunity to follow the mentoring during the week with the national inspiring figures. This program lasts from February to June.
Meanwhile, the workshop presents Faldo Maldini and Bening Rara Pratita, young entrepreneurs and social activists. Faldo Maldini, one of the initiators of pulangkampuang.com, revealing his idea to create a hometown-based community empowerment that began after he graduated from college in the UK a few years ago. "I want to invite Minang young people who are overseas to make real changes in their village. In this community they can share experiences, work and passion in using technology," he said.
Bening Rara, social activist and initiator of go archipelago, began operating her program after joining Indonesia Mengajar (Indonesia Teaching) movement. At that time, she was appointed a lecturer in the remote area of Borneo. "After my return, I would like to invite young people to love traveling activities and to encourage local communities to promote tourism potential," she said.