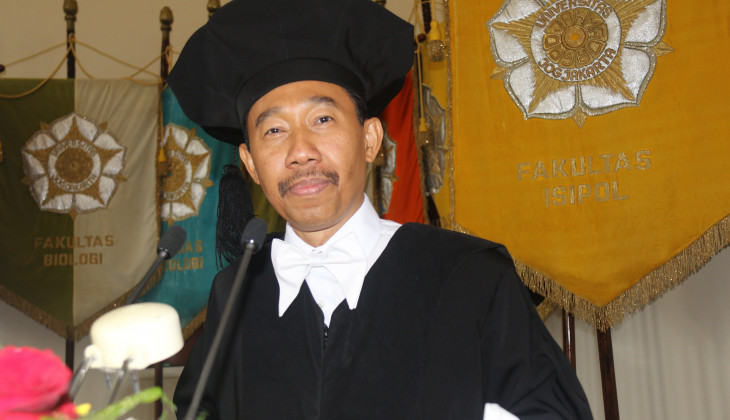 Post-reform 1998 Indonesian politics was thriving. But on the other hand, quality of bureaucracy regulation was much worse than those of neighbouring countries. World Bank survey revealed that in 2014, Malaysia and Singapore were valued at 75 and 100 while Indonesia only 49.

Related to business regulation, to invest needs a very complicated process. Indonesia requires much more regulations which are complicated whilst service quality not improving.

"Data on Convenience to Do Business showed procedures in Indonesia consist of 10 types whilst Malaysia 3 and Thailand 4. On length of time to process, Indonesia takes up 48 days, Malaysia 6 and Thailand 27.5," said Prof. Dr. Agus Pramusinto, MDA, at the Senate Hall on Tuesday (1/3) when being inaugurated as professor in state administration at Faculty of Social and Political Sciences. The chairman of Management and Public Policy department delivered a speech titled Driving Change from the Outside to a Democratic and Service Oriented Indonesian Bureaucracy.

Despite the fact that many issues had been addressed by state leaders from President Soeharto to President Joko Widodo, but bureaucratic reform stays an important issue. During the terms of President Susilo Bambang Yudoyono, despite the huge funding, reforms were still lacking. Bureaucratic reform often touched upon non-strategic affairs.

According to Agus Pramusinto, in the past ten years bureaucracy reforms have been reviewed in many countries. In developed countries, the reform were working due to the awareness of bureaucracy that have the commitment to fix themselves, in developing countries, supply side reform tends to be ineffective in making change.

"Even if there is an internal effort made for reform, the change is false, only a formality. So, bureaucratic reform in Indonesia has to be encouraged through other sides (demand side reform)," said Agus.

With the demand side reform, according to Agus Pramusinto, strengthening civil society, business link, and media become very important components. They have to be engaged in formulation process of reform direction, monitor activities and evaluation of reform achievement. As such, the success of bureaucratic reform is assessed by residents who received the service, not the bureaucracy itself.

To realise bureaucratic reform needs mental revolution among senior officials who have the power mindset to be changed into service mindset. Other important thing is awareness of society on performance of bureaucracy.