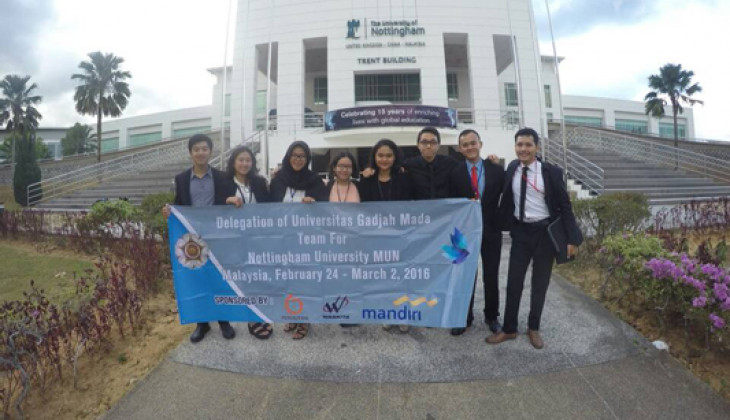 Universitas Gadjah Mada students made an outstanding achievement at the Nottingham University Model United Nations (NUMUN). The UGM delegates won three awards in the event held at the University of Nottingham, Malaysia, from 25-28 February 2016.
The first award, The Most Outstanding Delegate, was contributed by Angelo Abil Wijaya (International Relations 2015). Next, the Honorable Mention was gained by Chitito Audhitio (International Relations 2015). Then, a UGM delegation came second place in the Youth Speak video competition, presenting efforts to save the environment for a better future.

Angelo Abil said the NUMUN event was followed by up to 200 students from various world universities, including from Brunei Darussalam, Singapore, Indonesia, Malaysia, Sri Lanka, Pakistan, Maldives, France, Senegal, etc.

"In this competition all delegations did a simulation of a real UN session, carrying out lobbying, negotiating, and diplomacy," he explained on Monday (7/3) at Faculty of Social and Political Sciences UGM.

To the NUMUN event, UGM sent seven students apart from Angelo Abil and Chitito Audhitio, also Aura Fadzila, Kevin Abimanyu Jatmiko, and Eufrasia Aradipka (International Relations), Smita Tanaya (Politics and Government Studies), and Dhanita (Law). They all represented the UK in the simulation.

"Each of us joined a different committe, such as Disarmement and International Security Committee, World Bank, United Nations on Women, United Nations Security Council, Economics and Finance, and Special Political and Decolonization Committee," Chitito added.

Chitito explained that by joining this event, they all gained many knowledge and insight, especially on diplomacy and negotiation.

"We were very excited and proud as in the NUMUN this time the UGM delegation brought home three awards at once," he said, hoping that in the future UGM could continue making achievements at various world activities.