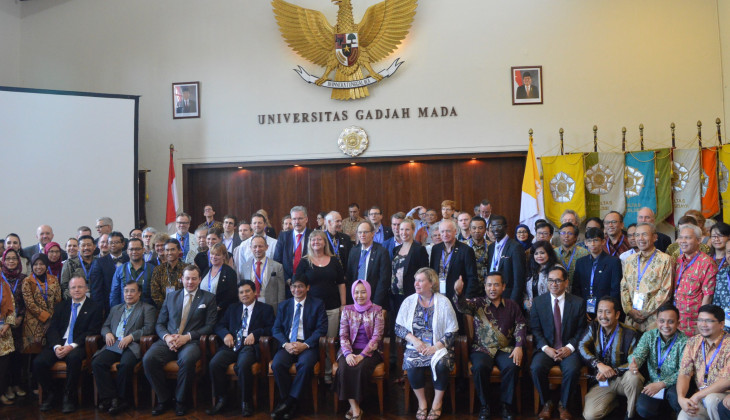 Universitas Gadjah Mada hosts the Indonesia-Sweden Excellence Seminar that brings together 100 researchers from Indonesia and Sweden on Tuesday (15/3) in the Senate Hall of UGM. The seminar is a collaboration between UGM, Ministry for Research, Technology and Higher Learning, Swedish Academic Collaboration Forum (SACF), and Swedish Embassy in Jakarta. It aims at strengthening cooperation between both countries as well as promoting new collaborations in strategic areas related to research and higher learning.

"This activity is a follow up to the letter of intent between Indonesia and Sweden in research and higher learning. I hope the letter of intent can be the platform for Indonesia and Sweden to develop collaboration and innovative programmes in the future," said Director General for Learning and Student Affairs, Prof. Intan Ahmad.

In his remarks he announced some points in the letter of intent, including efforts to promote collaboration and information exchange, experience sharing in scientific research and innovation in areas of mutual interest.
Along with Brazil, China, Singapore, and South Korea, Indonesia is one of partners for the six universities joining SACF, namely Chalmers University of Technology, KTH Royal Institute of Technology, Linköping University, Lund University, Stockholm University, and Uppsala University, as they are considered as having the same vision in driving collaboration in research and higher learning.

"The visit of 60 Swedish researchers to Indonesia for the first time showed the growth and connection that have been established between both countries. Starting in 2016, many things mark the start of new era for cooperation for both countries," said Swedish Deputy Ambassador, Eddy Fonyodi.

This Seminar highlights 6 main topics relevant to Indonesia and Sweden, which are maritime and technology building, city planning, disaster management and local resilience, renewable energy, civil society, and university management. This topic according to Rector of UGM, Prof. Ir. Dwikorita Karnawati, M.Sc., Ph.D, is also the focus of UGM in research development and community service.

"We wish to implement the principle of social entrepreneur, that education and research would not only end up being thesis and dissertation, but also driving economic growth of the state. I believe, Swedish universities and top Indonesian universities can work in synergy to get that vision," she said.

Also attending the seminar were researchers from Institut Teknologi Bandung, Universitas Indonesia, Institut Teknologi Sepuluh Nopember, and Universitas Diponegoro. There is also exhibition "Study in Sweden" to promote programmes at Swedish universities.