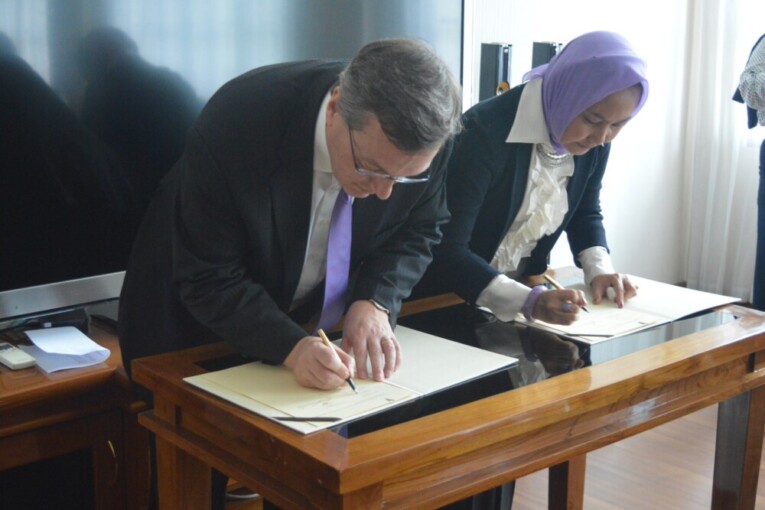 UGM Signed MoU with University of Warwick
Universitas Gadjah Mada received a visit from the University of Warwick, United Kingdom, Thursday (17/3) at UGM Main Building. The visit was conducted in the framework of the signing of the Memorandum of Understanding (MoU) between the two universities related to the exchange of undergraduates. The signing of this MoU provides an opportunity for students from each university to study at the partner university and then returned to home university to complete their studies.
"We are very pleased to initiate this cooperation, after last month we also had the opportunity to discuss briefly about the action plan related to collaborative education and research in various areas, such as animal husbandry, agricultural technology, social sciences, as well as other variety of studies," said Rector of UGM, Prof. Ir. Dwikorita Karnawati, M.Sc., Ph.D.
On this occasion, she delivered some of the things that become UGM's concern, especially in the efforts of forming synergies and benefits of the research findings, to implement research in the public, industry, as well as give consideration for government policy-making. "I hope that this cooperation is not only useful for advancing research, but also significantly encouraging the development of education and improvement of social and economic prosperity," she explained.
In line with this, the President of the University of Warwick, Prof. Stuart Croft, said that the University of Warwick also had the same enthusiasm to contribute to the community, especially given the history of the University of Warwick which was built 50 years ago at a time when there is a gap between academia and industry. "The objective of establishing the university is not only to conduct theoretical research, but also to have an impact on society," he said.
He also expressed the significance of this partnership, both for the university and for the relations between Indonesia and the UK, because Indonesia has also become a key partner for the UK. Therefore, he encouraged the signing of this MoU may soon be followed up with concrete actions, one of them is by having a keynote lecture. "Agreement signed should be followed by concrete action. I hope there are many things that we can do in the near future," he added.
This meeting was also attended by the Head of the Human Resources Development in the Ministry of Public Works, Prof. Dr. Ir. Anita Firmanti, who explored the possibility of cooperation with the University of Warwick for the double degree program for their staff who took master program at UGM. "This ministry has a great responsibility to build infrastructure in Indonesia. I hope the cooperation that was built can impact the Ministry to continue developing the capacity of its human resources," she explained.