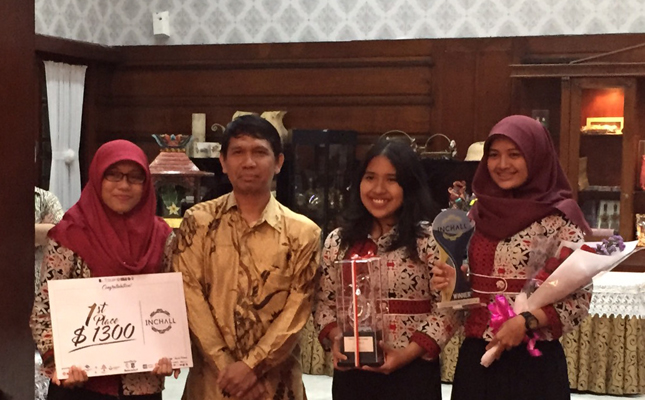 UGM Gamapro team successfully won the international competition Industrial Challenge (INCHALL) 2016. The competition that took place at the Sepuluh Nopember Institute of Technology (ITS) from March 1 to 5 is followed by 126 teams from various universities in Southeast Asia, such as Indonesia, Malaysia, and Thailand.
Consisting of Regina Venska Ardiana, Sekar Sakti, and Novianda Aditya Istiqomah of the Department of Mechanical and Industrial Engineering, Faculty of Engineering, Gamapro team must compete in this prestigious championship. Previously, they had to compete with 126 other teams in an online test. As many as 15 teams were selected to go to the next round.
"The 15 teams that qualified for the semifinals are from various universities in Indonesia and Thailand," he said, Friday (18/3), at the Faculty of Engineering.
Regina said that they had to face series of tests in the semifinal of INCHALL 2016. In the semifinal they were tested to solve problems of basic theory of science in Industrial Engineering in limited time and a variety of difficulty levels. Furthermore, they are given some cases related to the theme of the competition which is Global Value Chain Towards Sustainability Development afterwhich they have to make analyzes in a report form.
From the semi-final round, five teams with the highest score advanced to the final round. Five teams that made it to the final rounds are teams from UGM, ITB, Chulalongkorn University, and Telkom University. In the final round, all finalists must solve real cases of PT. Beiersdorf Indonesia where they have to offer solutions.
"In the final we were given real case experienced by reputable companies in Indonesia, namely PT. Indonesia Beiersdorf that produces Nivea and Hansaplast," she said.
UGM Gamapro team provides solutions to increase the efficiency of labor and machine maintenance scheduling by using Flexible Line Balancing Software.
"We performed a simulation of the production lines that we offer and the results are able to increase production efficiency by 90 percent," she said.
Regina said they were proud of the achievements that they have earned. This achievement can not be separated from the hard work and the team's ability to solve the problem in a comprehensive manner with a systematic way of thinking. In addition, the team tried to provide creative solutions with Industrial Engineering approach based on the problems. They received a prize of 1,300 US dollars.
Dr. Budi Hartono, Secretary of the Industrial Engineering Department UGM, said that this victory added previous achievements earned by teams of Industrial Engineering Student Association (HMTI) UGM in various competition, such as the third winner of IECOM 2016 and the first winner of the International Project Management Challenge in 2015.
"We hope in the future there will be more and more achievements being earned by students in the national and international level," he hoped.