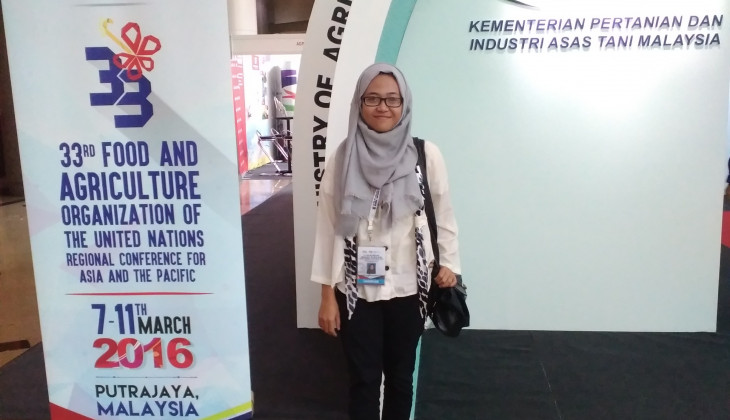 Anjela Putri Ratnaningrum, agriculture student of Universitas Gadjah Mada (UGM), attended a regional conference organised by the Food and Agricultural Organization (FAO) in Putrajaya, Malaysia, 7-11 March 2016 lalu. The biennial meeting of the FAO member countries was joined by representatives from 44 states, observer from 1 member state, eight international non-government agency, and 34 inter-government organisations.

Anjela said she had not expected to be selected as observers along with Anggita Kharisma from Universitas Padjajaran. Both had to undergo a selection done by International Association of Students in Agricultural and Related Sciences (IAAS). "We both went through rigid selection at the IAAS," Anjela told the press on Friday (18/3).

Selection process included biodata, motivation letter, and recommendation to the IAAS Asia Pacific members. Then, they were made observers in that regional conference, representing the youth groups. "In that conference we represent the youth groups," said Anjela.

She said the conference was attended by Malaysian Deputy Prime Minister, HE. Datuk Seri Ahmad Zahid Hamidi, and Director General of FAO, Dr. José Graziano da Silva.

Anjela said the conference discussed policy and regulation in agriculture in Asia-Pacific region and the world, measures to reduce hunger and poverty alleviation, nutrition improvement in Asia-Pacific region, revitalisation of rural economy, and new growth to meet Sustainable Development Goals (SDGs) 2030. A round-table session finally discussed the role of the young generation in shaping the future of agriculture. Issues that emerged there includes the lack of interest among the young people to engage themselves in agricultural sector. "We hope the young people are more aware of the agricultural issues and contribute more to this sector," said Anjela.