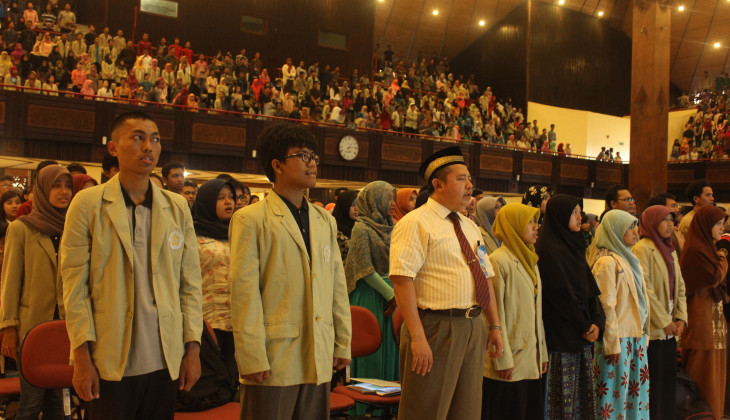 As many as 2,500 students who receive Bidik Misi government scholarships attended a socialisation briefing from Student Creativity Programme given by Student Affairs Directorate of Universitas Gadjah Mada on Tuesday and Wednesday (29-30/3) in Grha Sabha Pramana UGM. "This event is our responsibility to make the government programme Bidik Misi, a success," said Dr. Senawi, M.P., Director of Student Affairs.

He said that Bidik Misi recipients were the hope of Indonesia nation to break the poverty chain. He expected them not to lose hope and keep struggling to make achievements. "Success is not the monopoly of the rich, success belongs to those who fight," he said.

Also becoming a speaker in the event was Birrul Qodriyah, UGM student class of 2013, also a Bidik Misi recipient who has made many achievements. Afterwards, Head of Student Creativity Programme, Ahmad Agus Setiawan, S.T., M.Sc., Ph.D., touched upon the importance of students to develop themselves and be actively making achievements. "Recipients of Bidik Misi are selected students, So, let's make use of all facilities provided at UGM to keep making achievements," he said.

He added UGM was preparing a workshop on writing a proposal on Student Creativity for Bidik Misi recipients. The Workshop will be on 16 and 30 April, and 14, 21 dan 28 May 2016. It will be supervised by Student Creativity supervisors, faciliated by students of PKM Center UGM. "This programme is our commitment to training and empowering students who receive Bidik Misi scholarships at UGM," said Agus.