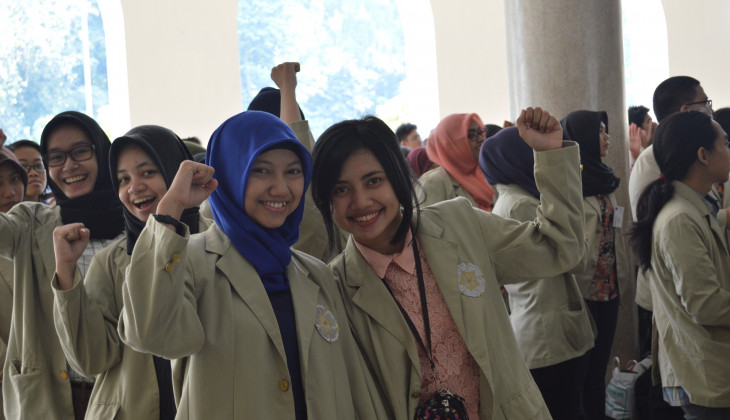 As many as 291 students of UGM join the KKN-PPM (Student Community Service – People Empowerment Programme) for two months, starting 1 April - 31 May 2016, in Bantul, Kulon Progo and Gunung Kidul regencies.

In Bantul, the students will do the programme themed Conservation of Sand Dunes (in Kretek sub-district), Development of Innovation Village and Small and Medium Enterprises (Srandakan) and Community Empowerment. In Kokap sub-district of Kulon Progo the students will do Community Empowerment, too. While in Sentolo, Kulon Progo, they will do Local Potential-based Community Empowerment. In Gedangsari of Gunung Kidul, they will do Local Wisdom-based Community Empowerment.

"We wish to release the students on this programme with the hope that they would be able to help increase people prosperity and support government programme in poverty alleviation," said Vice-Rector for Research and Community Service, Prof. Dr. Suratman, in Balairung UGM, Friday(1/4).

In his remarks, Suratman reminded the students to maintain their physical, mental and social well-being. They are expected to have a good diet and enough rest.

For social well-being, the students are expected to make courtesy calls on local leaders. They are also asked to carry with them the UGM values.

"Present yourselves well and keep yourselves as students of UGM who have the values of Pancasila, struggle, nationalism, democracy and culture," Suratman.

Similarly, Dr. Djaka Marwasta, S.Si., M.Sc., Head of KKN-PPM programme sub-directorate, said all participants ought to maintain and uphold the name of UGM with dedication and work performance as the success of this programme is a pride for UGM academic community.