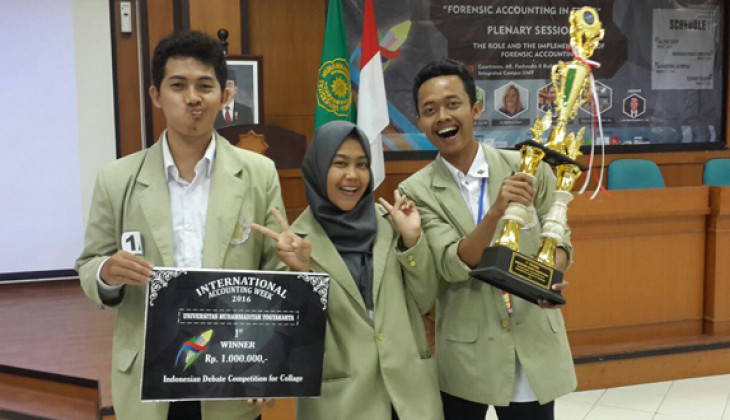 UGM student team won first place in the 2nd Indonesian Debate Competition - International Accounting Week, held on March 2 at the Muhammadiyah University of Yogyakarta. UGM team named 'Rumah Cokro' consisted of Joko Susilo and Alfath Bagus Panuntun El Nur Indonesia (Social and Political Sciences Faculty) and Safira Salsabila (Faculty of Law).

The competition is organized by the Accounting Student Association (HIMA) Faculty of Economics Muhammadiyah University of Yogyakarta. The event is attended by dozens of teams of students from various universities in Indonesia.

Joko Susilo said in the competition all participants were given a number of motions to be debated together. There are approximately 25 motions being debated, among other issues are AEC, SMEs, inflation and the effect of fuel prices, the legalization of the sale of human organs, the voting rights of prisoners and criminal law for minors. In addition, a motion related to the quality of teachers, curriculum implementation in 2013, the policy of the death penalty, mandatory military service for young people, corruption and elections and the role of political parties in a democracy.

"First winner was achieved by UGM team after defeating the team from Airlangga University in the final round with the motion 'Abstentions in Election: Proof of Low Nationalism'," he explained, Tuesday (5/4) at UGM.

Joko Susilo said he was proud of the achievements that they have achieved. Through this competition, they not only score an achievement but also build room for dialectic, rhetoric and development of their own capacity.

"Hopefully, UGM students excel through their achievement in their respective fields," he hoped.