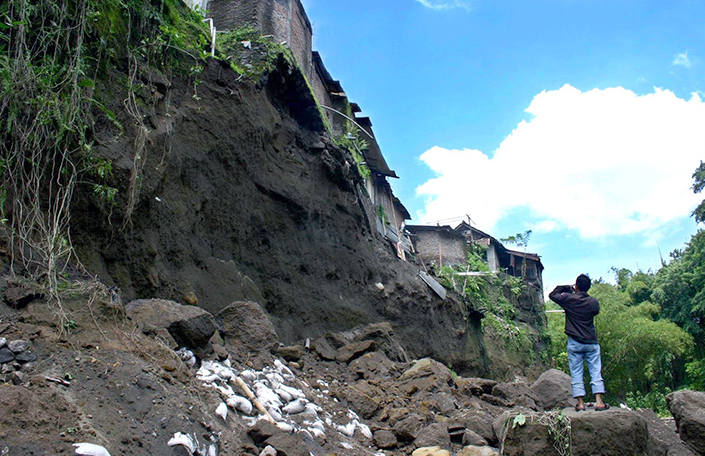 UGM's disaster mitigation team was conducting a survey on landslide that happened recently along the Code and Winongo rivers that run along Yogyakarta city. It showed that the river basin areas of Code and Winongo are highly vulnerable to landslide as the cliffs are sharp whilst consisting of sediment that is not yet fully compacted.
"Riverflow also erodes the foot of the cliff, thus reducing the cliff stability in addition to the plenty residences on the cliff that adds to the burden," said Dr. Wahyu Wilopo, one researcher from Geological Engineering department on Thursday (7/4).
He said the extent of disaster risk along Code and Winongo rivers was further aggravated by the waste disposal system that is not yet appropriate, thrown away directly by people to the ground causing erosion."Ideally, the distance between residences and cliffs are equivalent to the height of the cliff, thus maintaining the stability of the cliff in the long run," he said.
Wahyu mentioned the areas that have the risk for landslides include Pogung, Sendowo, Blimbingsari, Gondolayu, and Kotabaru as well as from Tegalrejo down to Bugisan. Mitigation is therefore needed to strengthen the cliff.

He added the local government need to check the sewerage system in the cliff to ensure that it works properly with no blocking found. If there is a crack there, this should be covered with water-proof material while the people can move to a safer place during the rainy season until the condition is fully secure. "Landslide happens not only when it rains, but also after the rain. Observation of cracks needs to be conducted regularly, too," he said.
The Meteorology and Geophysics Agency predicted that April is the peak of the rainy season in Yogyakarta. Therefore, residents living along the rivers need to be on alert.