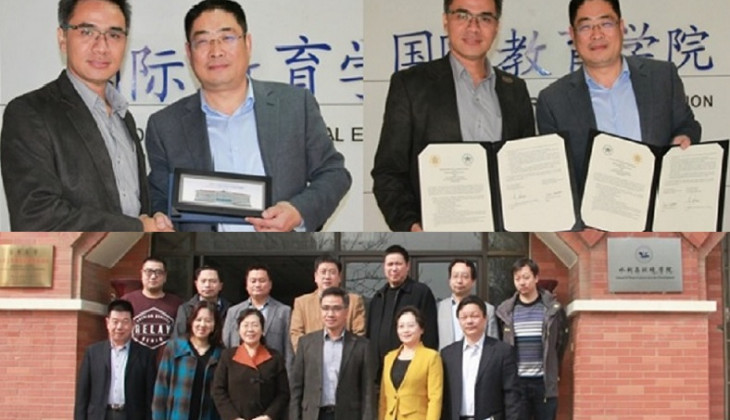 Universitas Gadjah Mada's Vocational School has established a collaboration in education, research, and community service with several Chinese universities, including Zhengzhou University, North China University of Water Conservancy and Electric Power (NCUW), and Yellow River Conservancy and Technology Institute. The Vocational School has recently visited several universities and technology institutes in China. The collaboration arranges study opportunities up to master's degree as well as scholarship schemes that include tuition fee and dormitory.

"To the Yellow River Institute in Kaifeng, we have sent tens of our students for continuing study in the past three years," said Dr. Wikan Sakarinto, Vice-Director of the School on Friday (8/4).

Wikan said the School would continue the collaboration with Yellow River Institute. The scheme of collaboration will lead to D4 double degree programme and lecturer exchange.

"Prof. Zheng Jin (Cathy), Deputy Dean of School of International Education Yellow River Institute, said that they were always comitted to developing the collaborations," said Wikan.

Wikan said UGM students currently studying at Yellow River Institute were being prepared for further studies at Zhengzou University. Hence, the MoU signed between the two will arrange study opportunities up to B.Sc and Master levels.

Zhengzou University, Wikan explained, is a leading university in China with 60 thousands of students. Competition to get admitted at Zhengzou University is very high.

"We've been informed by Dr. Wang Zhong (Frank Wang), coordinator for international admission, that 5 - 10 thousands of candidates contended for one seat at Zhengzou University. So, it's a pride if our students can pursue their study at Zhengzou University," he said.

Frank Wang said Zhengzou University acknowledged the quality and achievements of UGM students whilst studying at Yellow River Institute. Their role there had opened the eyes of many noted universities in China.

"So, we would also like to offer opportunities for tens of UGM students in Jogja that want to further their education in China. We would also be ready to offer partial scholarships," Frank Wang explained.

The programme developed by UGM Vocational School and Zhengzhou University and North China University is Program 3+2, meaning 3 years of study at UGM and 2 years in Cina, graduating with B.Sc. degree. Meanwhile, the Program Double Degree 2+2 means 2 years of study at UGM and 2 years in Cina, completing B.Sc with certificates from both universities. Furthermore, Program 4+2, or D4 graduates further their S2 studies in China. All is designed and supported by scholarship schemes currently being proposed to the Chinese government.

In addition, Vocational School also collaborates with Tongren Institute, Chengdu Institute (China) and 51 polytechniques or institute of technology in Japan, a number of universities in Korea, and collaboration development with fachhochschule in Germany and hogeschool in Hollands. To prepare strong HR who are competitive at global level, several S3 and S2 graduates from German universities have registered themselves as lecturers and staff at the School.