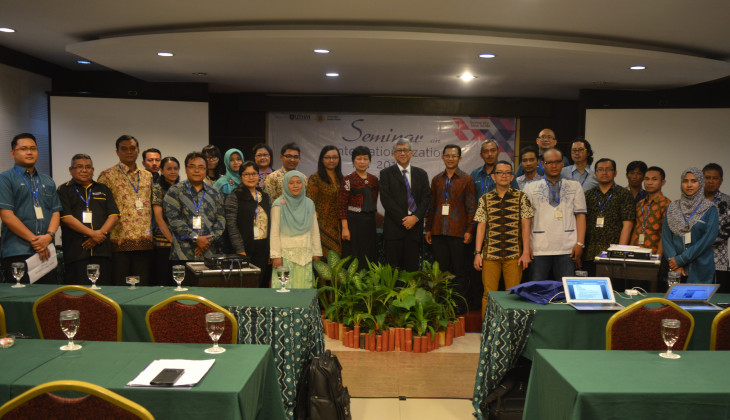 In the global society, development of trans-border networks and cooperation is important to make countries able to face challenges, including for the ASEAN and ASEAN Economic Community (AEC). AEC has opened opportunities for trans-activities including for higher learning to share ideas and exchange HR, as well as contributing to local and global societies.

In 2014, total population of ASEAN was 622 millions where over half of which were under 30 years old. The high young population gives opportunities to boost economic progress in the future. If not addressed well, however, the condition will pose risks, too. Hence, ASEAN higher learning needs to provide access to quality education, training, and services to meet the ASEAN development goals.

This spirit became the background for the hosting of Seminar on Internationalization 2016: Malaysia & Indonesia "Borderless Education", on Friday (8/4) in University Club UGM by Universitas Gadjah Mada and Universiti Tun Hussein Onn Malaysia (UTHM). "Borders in our minds might be stronger than the physical borders. So, we need to encourage people to cross the border in their mind," said UTHM Vice-Rector for Academic and International Affairs, Prof. Dr. Wahid bin Razzaly.

Higher learning institutions have the responsibility to set up the direction of regional development, for instance by increasing understanding and appreciation of culture, tradition, and trust among ASEAN member countries. In addition, providing good education, supporting communities through community service programme,as well as proposing policy on human rights and environment issues in line with the unique and diverse nature of ASEAN. This seminar becomes an opportunity for discussion on policy drafting that can form the future of young ASEAN generation.

"It is very important for UGM to establish cooperation with ASEAN universities, including UTHM, to share understanding and uphold cultural values. I hope we both can continue with a productive discussion to establish future collaborations," said UGM Director for Partnership, Alumni, and International Affairs, Dr. Anna Marie Wattie, M.A.