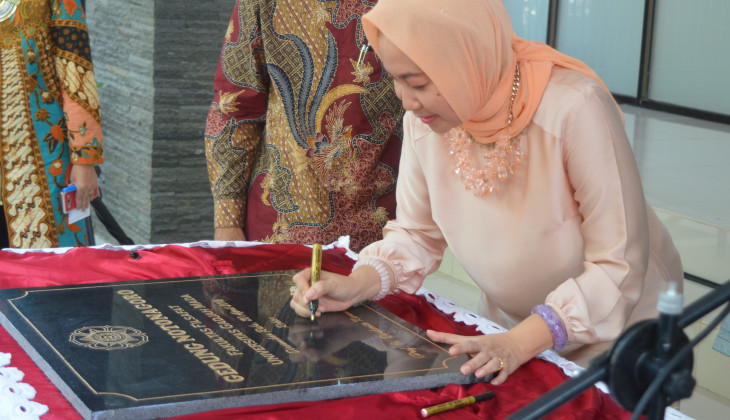 Prof. Notonegoro is known as noted philosopher that puts forth Pancasila as special character of Indonesian philosophy. His name has now been immortalised in the new building of Faculty of Philosophy UGM, which is Notonegoro building.
"Since 30 years ago Faculty of Philosophy wanted to have this building, now this has been realised," said Dean of Faculty of Philosophy, Dr. M. Mukhtasar Syamsuddin, inaugurating the Notonegoro building on Wednesday (20/4).
Prof. Notonegoro who had his professorship in 1949 at the Faculty of Law, Economics, Social and Politics UGM, became one of the founders of Faculty of Philosophy UGM. On the national philosophy domain, his ideas on the position of Pancasila in Indonesian state institution made it as one of most important philosophies in Indonesian history.
In his opening remarks, Mukhtasar expressed his admiration of Notonegoro that adhered to Pancasila values, whilst not making Western philosophy the main teaching. Therefore, to take examples of Notonegoro's spirit of Pancasila, the new building has five floors with each floor being named according to each of five Pancasila's principles.
"I hope with the construction of the new building, Faculty of Philosophy would become a strategic faculty to develop Pancasila noble values to educate society," he said.
Rector of UGM, Prof. Ir. Dwikorita Karnawati, M.Sc., Ph.D, appreciated the role of Prof. Notonagoro for UGM. "For UGM, Prof. Notonegoro has contributed to the foundation of Pancasila as UGM basic value that is stipulated in the UGM statutes. Notonegoro has left us a record that shall not perish," she said.
For Dwikorita, one of Notonegoro's thoughts that is important to the present context is his writings discussing Pancasila scientifically but popularly, as a value that will remain strong along with changing times.
"He is one leading philosopher in Indonesia and the world. I hope his ideas on Pancasila can be developed further along with the changing times," she concluded.