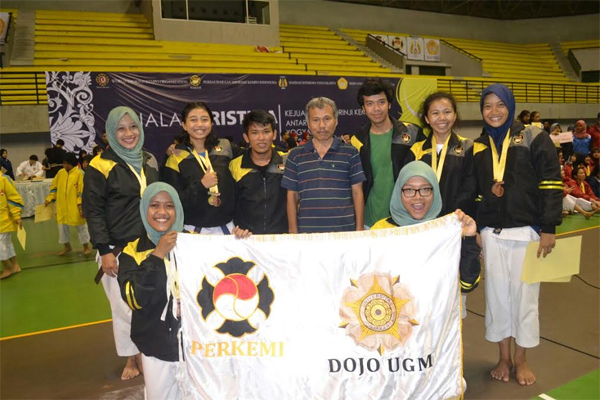 Universitas Gadjah Mada's Kempo unit has won a national competition at the National Shorinji Kempo III year 2016 for women, held at Among Rogo stadium on Saturday (23/4), eventually bringing home five medals.
The competition run by Universitas Sanata Dharma was joined by 200 athletes (khensi) joining 20 contingents from kempo clubs across Indonesia. There were four groups, beginner, youth 1, youth 2, and adult.
Muhammad Fadli Rozamuri, UGM's team public relations officer, said the UGM team sent six athletes for five categories. They won 1 silver medal and four bronze medals.
The silver medal was for Ni Made Dinda Mentari in randori class 60 kg, bronze for Azizah Nur Istiadzah in randori class 60 kg, and bronze for Mentari Rizki Utami in randori class 55 kg. Next, a bronze medal is for double embu for Ni Made Dinda Mentari and Mentari Rizki Utami. Also, another bronze is for group embu consisting of Azizah Nur Istiadzah, Nadhya Azka Aulia, Christiani Dewi Q.M Bulin, and Constantya Astrid P.
"We were very happy to make these achievements for UGM again. Hopefully, in the future, we can contribute more," he said on Monday (25/4) at Student Hall UGM.