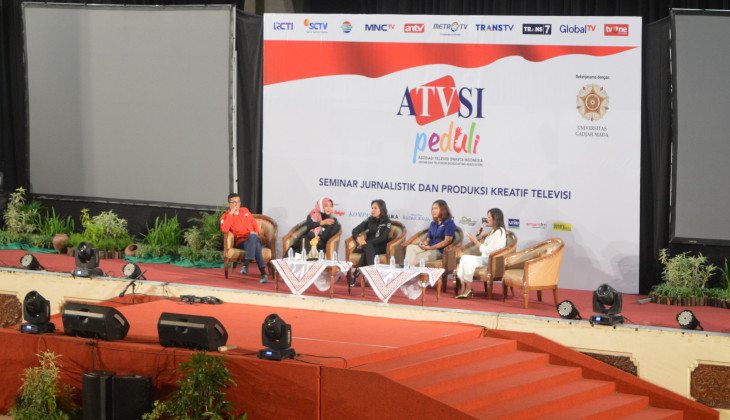 In the digital era when the spread of information takes place in cyberspace, the television industry is facing competition from online media which is relatively more accessible. This requires television stations to continue to bring innovation, both in the program and in the broadcasting media. One way taken by the TV industry is by providing access to watch the channel online.
"Forty percent of young people no longer watch television channel via television physically, but through their gadgets," said Chairman of Indonesian Private Television Association (ATVSI), Ishadi SK, on Journalism and Creative Television Production Seminar at Graha Sabha Pramana UGM on Thursday (28/4).
Watching television by online streaming, he said, was an option for young people, especially students who may not have a television in their boarding house or dormitory. Therefore, providing online streaming access is one way of anticipation that has been done by all TV stations incorporated in ATVSI.
"Currently, all television stations provide streaming access, so the audience can access the broadcast via their gadget," added Ishadi who currently serves as Commissioner of Trans TV.
Year 2016 is also a strategic period for the television industry in Indonesia. This is quite reasonable because this year, the Indonesian Broadcasting Commission (KPI) together with the Ministry of Communications and Information Technology (Kemenkominfo) will evaluate the extension of licenses of broadcasters to 10 private television broadcasting networks nationwide. It is a momentum for the TV stations to make innovations as television programs should be educating people of all ages.
This seminar is part of ATVSI Roadshow organized by ATVSI through cooperation with several agencies, including UGM. In this seminar the television industry workers share their experiences of working in television, as well as an overview of the activities of production of events behind the scenes, from the process of preparation to shooting.
Some of the speakers who attended this are: host of Indonesia Lawyers Club, Karni Ilyas, Metro TV news anchor, Fifi Aleyda Yahya, producer of Laptop si Unyil, Mutia S. Ginting, as well as producer of the My Trip My Adventure show, Yessy Yani Agus.
"Usually people only see everything on television is running smoothly. What they do not know is that behind the scenes, the preparation process is not as glamorous as they had imagined. We must work very hard to deliver a good message to every member of the audience," explained Head of Commission of Inter-Agency, Society and Foreign Affairs Relations of ATVSI, Retno Shanti Ruwyastuti.
The roadshow, according to Retno, is a routine activity held by ATVSI to get closer to the audience. Apart from the seminar, there were also media literacy programs for schools and various social activities.