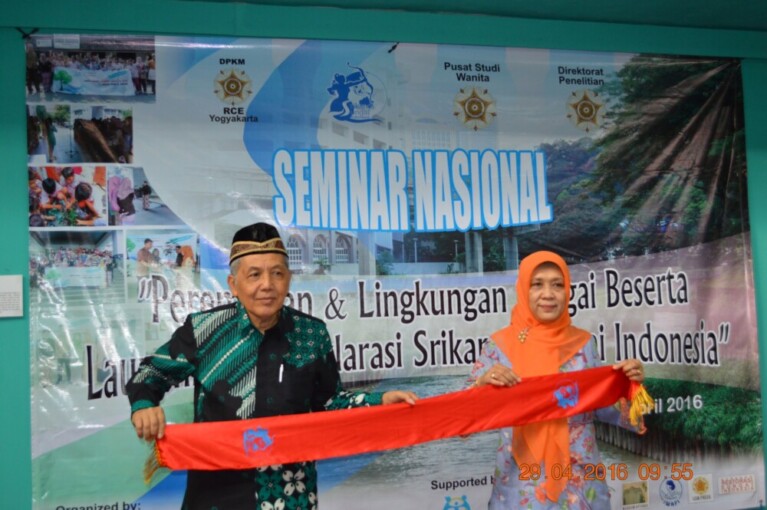 UGM Community Service Institute (LPPM), UGM Centre for Women's Studies, and Clinic for Environment and Disaster Mitigation of Georaphy Faculty UGM have established the Srikandi Sungai Indonesia (SSI). The launching and declaration of the movement took place at Affandi Museum on Solo Street, Yogyakarta, on Friday (29/4).
The Srikandi Sungai Indonesia movement is expected to raise the commitment of all shareholders and the community to carry out constructive and innovative work to manage the country's environment, particularly river environments. Education and campaigning are important to manage the environment, starting from individuals and families.
UGM Vice-Rector for Research and Community Service, Prof. Dr. Suratman, explained that Srikandi Sungai was formed by UGM and was expected to collect ideas from prominent women in order to make a breakthrough in the environmental management of rivers. "The nature of women is one of beauty, purity and attractiveness. So, Indonesian rivers are also expected to be clean and beautiful. Currently, most rivers in the country are dirty—including the Citarum River which ranks as the dirtiest in Indonesia and the world. We obviously don't want to be labelled for this," he said.
Suratman added that SSI would set up programmes that support river restoration around the country. Working with centres for women's studies all over Indonesia, it will educate families to create the pancadaya programme in Indonesia.
"The pancadaya programme of Sungai Indonesia promotes rivers that are clean, smart, resilient, creative, and flourishing. We hope Indonesia and the world will follow suit from Yogyakarta where it all started. Hopefully, the inspiration of heroine Kartini will enhance women's leadership for Indonesia," he added.
Head of Centre for Women's Studies, Drs. Suprapto, SU., welcomed this movement. SSI positions the women's role as a more extensive one. In his view, women have great potential, especially regarding the natural environment, that is to say rivers.
"Rivers are seen as something that create flooding, dirt, and so forth. The fact is, they can be managed well. The Centre sees the great potential of women in managing the environment. Some women who have done so have proved that they can suceed well," said Suprapto.
Dra. Niken Kiswandari, M.Si, from the Ministry for Women's Empowerment and Child Protection, said that Srikandi Sungai Indonesia is expected to be an example of the role of women as agents of change in terms of the environment. "Education, campaigning, training and coaching conducted by Srikandi Sungai Indonesia will contribute to the success of government's environment programme," she said.