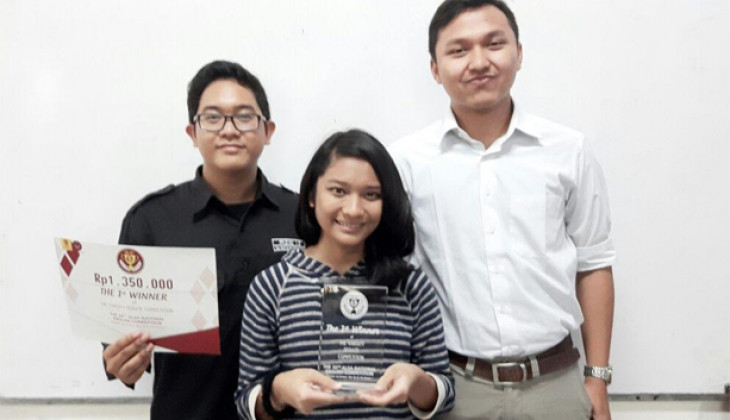 English Debating Society (EDS) team earned themselves another achievement at the national level. This time, EDS UGM won first prize in the 20th Asian Law Student Association (ALSA) English Competition 2016, held on April 27.
In the activities organized by the association of law students in Indonesia, EDS UGM succeeded to beat 47 other teams from various universities in Indonesia. Some of them are Bandung Institute of Technology, Padjadjaran University and Bina Nusantara University.
EDS UGM consisting of Arinta Pratiwi from the Science of Law Department, Dhanny Lazuardi and Rizqi Isnurhadi of the Department of International Relations, won first prize after successfully knocked Bina Nusantara University in the final round.
"In the final round, we were given a motion related to Mexican government's efforts to eliminate all legal limitations in using the military to fight drug crime. At that time, UGM served as an opposition team," Arinta said on Tuesday (3/5) at UGM.
The success they have achieved cannot be separated from the intensive training they did together in the Student Activity Unit English Debating Society UGM. In order to face this competition they exercise regularly for about 2.5 months. "Proud to won this prestigious competition," she said.
Arinta said UGM sent two debate teams in the competition. However, other UGM team consisting Aryanda Putra Tony (Law), Aldila Irsyad (Law), and Noel Hasintongan Simatupang (Social and Political Sciences) were defeated at the semi-finals round by Bina Nusantara team.
Although their them did not win, Aldila Irsyad won the award for the first best speaker, Aryanda Putra Tony as second best speaker, and Noel Hasintongan Simatupang as the fourth best speaker.
According to Arinta, members of their team were also awarded individually. In this competition Rizqi Isnurhadi awarded as the sixth best speaker, Dhanny Lazuardi was awarded as the eighth best speaker and Arinta Pratiwi as the tenth best speaker.