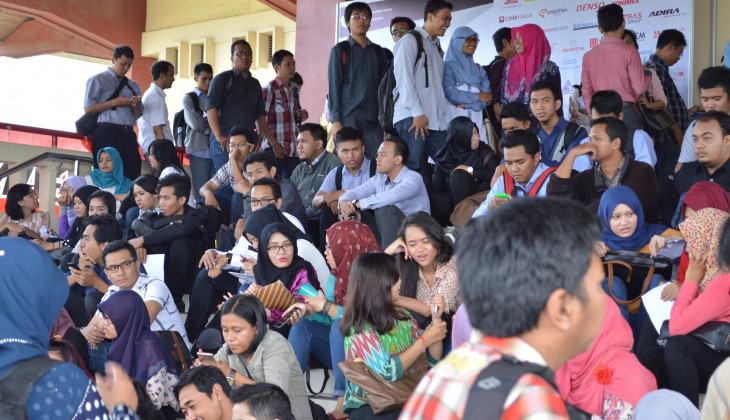 UGM Vocational Schook has once again hosted the Job Fair and Career Expo. The seventh event was followed by 49 companies that open up around 300 job vacancies.
The Job Fair and Career Expo offer opportunities for graduates to get information as well as job vacancies.
Annually, Vocational School inaugurates as many as 2,100 graduates from Diploma 3 and Diploma 4.
"Seeing this number, managers of the School are driven to promote its graduates to the work market. This explains the Job Fair and Career Expo this time," said Ma'un Budiyanto, S.T., M.T, Vice-Director for Research and Cooperation in Grha Sabha Pramana Hall UGM on Tuesday (10/5).

Ma'un Budiyanto explained the tracer study result of the School in 2015 showed in average graduates obtain a job in 1-2 months. This is a pride as well as challenge to UGM to always strive in order that its graduates can immediately be recruited.
He added that currently the School has Vocational Development Center (VDC), a forum that connects the School and companies. VDC runs Career Expo and Job Fair, informs job opportunities, gives training for stakeholder and certification training to prepare human resource ahead of the Asean Economic Community.
Brain M, S.Psi, committee chairman, said the event targetted as many as 9,000 – 12,000 participations from graduates and would-be graduates from high school/vocational school, Diploma, S1 and S2 levels from UGM and other universities.
"In the Grha Sabha Pramana Hall, participants may register themselves for job vacancies. I hope graduates and would-be graduates are able to make use of this event," he said.