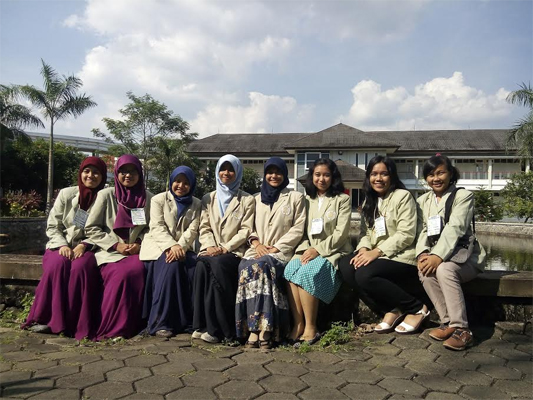 The team of students of the Faculty of Pharmacy, Universitas Gadjah Mada, successfully brought most of the awards at the National Scientific Essay Contest Phytoplasm VIII. The competition was held at the University of Tanjungpura from March 18-20, 2016.
In this competition, three teams from Faculty of Pharmacy won the first place, second place, and third place. They won the title by beating dozens of other student teams from various universities in Indonesia.
The team which consisted of Fitriana Hayyu Arifah and Zahrotul Ulum made it as the first winner by submitting a paper entitled ANDROPHY-MAX: The Potential of Nanoencapsulation Combination of Sambiloto Extract (Andrographis paniculata) and Meniran Leaf Extract (Phyllanthus niruri) as Smart Solutions to Overcome Malaria.
Then, another team consisting of Nanda Rysa, Anselma Ivanawati and Ni Putu Ayu Linda got the second place by submitting a paper entitled Andropolis: Nanoencapsulation combination of andrographolide and Propolis as an Alternative Solution for Intracellular Mycobacterium Tuberculosis.
The third team consisted of Primastuti Vidyaningrum and Annisafia Rizky which snatched the third place by submitting a paper entitled Lunasia amara: Natural Insecticide for Tackling the Endemic Disease by Aedes aegypti's vector.
The theme of this competition is the Improvement of Existence of Indonesian's Herbs as a Medicine to Tackle Endemic Diseases. It consisted of two stages of selection. The first stage is paper elimination. The second stage is a final presentation of the paper.
"Eight teams got the opportunity to present their papers in front of the jury. We are very grateful that all delegations from UGM won," she explained, Thursday (12/5), at the Faculty of Pharmacy.
Ulum explained that they propose innovative ideas for the treatment of malaria. They combine sambiloto extract with meniran leaf extract.
"With the combination of those herbs, we could create a complementary effect which will treat malaria better," she explained.
Sambiloto plant is found to contain compounds that are useful as a potent antiplasmodial and anti-malaria. While meniran has phyllanthin compound that serves as antimalarial and has been tested in vivo and in vitro.
The idea of making the drug in the form nanoencapsulation aims to suppress the bitter taste and the poor solubility. By producing it in a form of nanoencapsulation paniculata, it will increase the uptake in the body. "The ideas can be developed into research which would support the improvement of quality product and safety of traditional medicine in the era of globalization," she said.
Competition that was held by Faculty of Pharmacy Student Association, University of Tanjungpura, is an opportunity to develop and enhance the creativity of Indonesian students, particularly in the fields of pharmacy and health. In addition, these activities promote herbal medicine in Indonesia