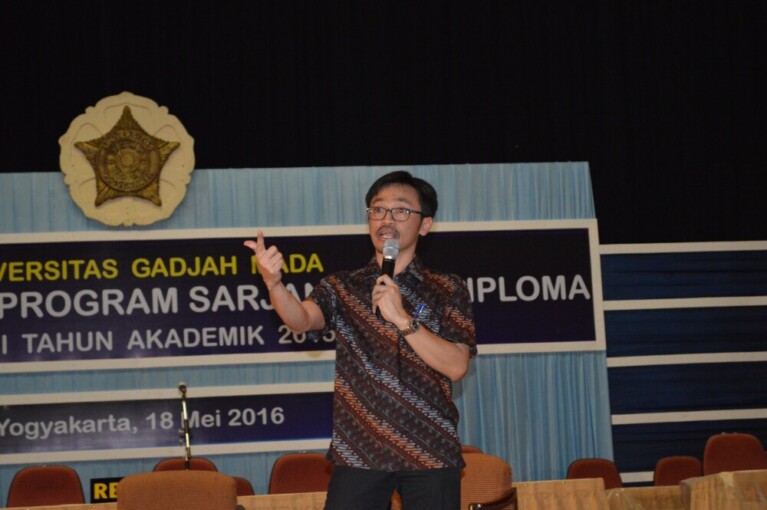 Hikmat Hardono, S.E., Akt, Director of Gerakan Indonesia Mengajar (Indonesia Teaches) shares his experiences with 1200 would-be gradutes of UGM's diploma and undergraduate levels for the period of May 2016. In the event to brief the would-be graduates, Hikmat Hardono asked them to be young teachers in isolated areas of Indonesia.
Active in education and humanitarian projects, Hikmat Hardono is convinced that all humans have experienced anxiety. When he was still a student, he was anxious about when he would graduate, when getting a job, when already having a job then getting anxious about when to get married, and so on.
"All of these are irritating. But these are all your rights, anyway. But I want to say anxious about oneself or the public don't have to contradict," he said in the Grha Sabha Pramana hall on Tuesday (17/5). According to Hikmat Hardono, all of us have the anxiety out of us.
"That's why, Indonesia Mengajar movement wants to invite you to join us through a recruitment up until 31 May 2016. I'm sure some of you are anxious about what happens outside yourself. You're anxious about children out there, your neighbours, the nation, etc," he said.
Many programme initiatives have been produced in the Indonesia Mengajar movement, such as the inspiration class conducted by professionals who teach in schools.
Hikmat explained there are already over 91 thousands people registering at Indonesia Mengajar. After a selection, Indonesia Mengajar will receive as many as 671 young teachers.
"UGM remains the organisation with biggest young teachers; up to 10% of young teachers come from UGM," he said.
UGM alumni joining Indonesia Mengajar include Agus Rahmanto, consultant for world big organisations and Indonesia, Mathilda, engineer at Tripata and consultant for Pricewaterhouse Coopers who is currently preparing to study at Michigan University.