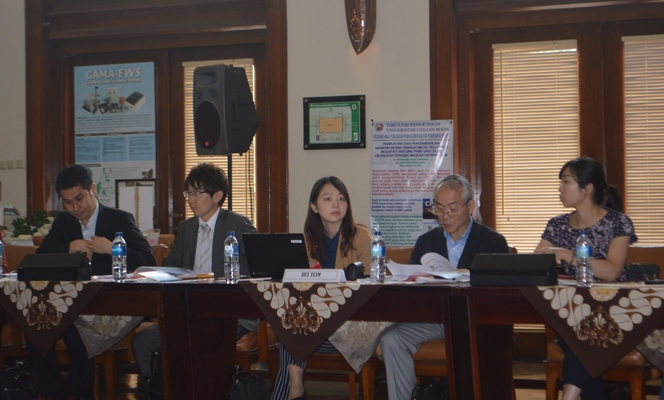 The Japan International Cooperation Agency (JICA) visited UGM to verify the substances of UGM's infrastructure development plans that are put into the Green Book of UGM 2016.
Rector of UGM, Prof. Ir. Dwikorita Karnawati, M.Sc., Ph.D., said UGM currently was focusing on research development and enhancement in health, pharmacy, energy, and engineering. UGM plans to build infrastructures for these goals by building a number of centres of innovation and laboratories.
"UGM will build up to ten of innovation centres to enhance researches, produce applicative products for the industry and society," she said on Tuesday (17/5) during a courtesy meeting and discussion with JICA Fact Finding Mission.
The centres of innovation will stand at Faculty of Pharmacy, Faculty of Law, Faculty of Medicine, Faculty of Dentistry, and Faculty of Forestry. Next are Faculty of Agriculture, Faculty of Animal Sciences, and Vocational School. Funding will be assissted by government through G-to-G program from JICA.
That explains UGM cooperating with the industry to construct a teaching industry in Kulon Progo regency. "In Kulon Progo, UGM students, particularly from Vocational School can learn directly in the industry since the beginning of study to completion so that their skills are getting more trained," she said.
According to Dwikorita, the innovation centres would improve the competitive power of UGM's research. Qualified products that will be produced afterwards are expected to minimise dependence on imported products of various areas, including health equipment, drugs, etc.