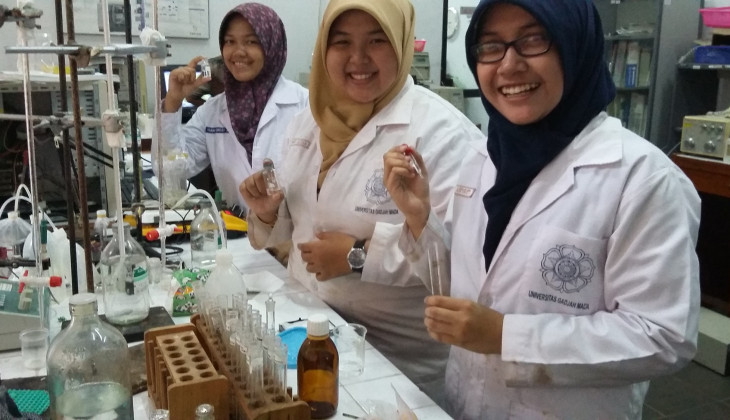 Three Chemistry students of Universitas Gadjah Mada, have developed a sunscreen. They are Dita Ariyanti, Ika Nurul Azizah, and Farah Ghezi Athaya. Supervised by Prof. Drs. Jumina, Ph.D., they do a synthesis of C-butilkaliks[4] resorcinarene compounds as derivates of kaliks[4] compound. This compound is then given esterification with cinnamoyl chloride and benzoil chloride compounds to produce SPF higher than 30.

Dita Ariyanti explained sunscreens are needed for protecting the skin from damage due to exposures to the sun's UV rays. Currently, sunscreens with SPF 30 are mostly available with low photostability to UVB rays.
"As a tropical country, Indonesia has higher intensity of sunrays than in non-tropical countries. This has both positive and negative effects to humans. The negative impacts are erythema, skin becoming dark, aging, and skin cancer," she said at the Faculty of Mathematics and Natural Sciences on Wednesday (18/5).

Dita further explained the compounds that have been synthesised have excellences, such as high chemical, radiation, and thermal stability; molecule mass relatively bigger in line with the trends to the development of new innovation in sunscreen's active compounds that have molecules heavier than 500 g/mol. This is expected to prevent the absorption of active compounds of sunscreen in the skin.

Kaliks[4] resorcinarene compound is also relatively easier to functionalise to produce various types of chromophores with different UV absorptions. Hence, it is very suitable as the basic structure for the design of sunscreen's active compounds with wide spectrum.
"Research showed three compounds (C-butilkaliks[4] resorcinarene with result percentage 97% , C-butilkaliks[4] resorcinarene octabenzoate and C-butilkaliks[4] resorcinarene octacinnamate with following percentages: 46 percent and 66 percent," said Dita.

SPF rate of the C-butilkaliks[4]resorcinarene, C-butilkaliks[4]resorcinarene octabenzoate dan C-butilkaliks[4] resorcinarene octacinnamate compounds are 3.80, 1.78, and 380 with concentrate 50 ppm. Meanwhile, cinnamate derivate compound stability to radiation of UV-B at the range of 0-120 minutes decreases, but C-butilkaliks[4] resorcinarene octacinnamate compound has the potential to serve as sunscreen's active material compound because the compound can absorp radiation of UV-B rays optimally.

"The research results are expected to give benefits to the development of sunscreen, able to produce sunscreen with high SPF that can absorp UV-B rays optimally, hence protecting our skin from exposures to sunrays," said Dita Ariyanti.