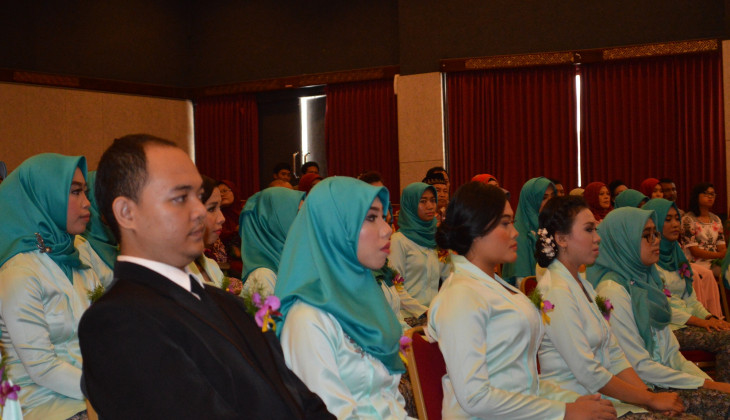 Faculty of Medicine UGM appointed 31 new nurses. The oath was taken at the Auditorium of Faculty of Medicine UGM, Tuesday (24/05). The appointment was led by Vice-Dean of Academic, Students and Alumni Department, Prof. dr. Ova Emilia, M.Med.Ed., SpOG(K)., Ph.D.
Representing the Dean, Ova Emilia said that nurse profession is a profession which demands an independency at the world of health. Therefore, new nurses are expected to be tough on doing their job.
"To become practitioners in the primary, secondary, or tertiary level, nurse has to be tough," she said.
The new nurses are expected to open themselves to the opportunity to work overseas as academicians or researchers.
"Whatever path you choose, we, from the almamater, would like to remind you to educate yourself," she said
Ova Emilia said that the new nurses would face real challenge since they would not be led by lecturers any longer. They have to learn by themselves to be able to compete with others.
"We are sure that you will be good nurses. But we will be prouder if you could become nurses with good personality, tough and humble," she said.
Meanwhile, the director of PPNI DIY, Tri Prabowo S.Kp., M.Sc., said that the appointment as a nurse is not the end but the start of a contribution. Because the real process is when we contribute to society.
Tri Prabowo added that government's health policy regarding MDGs, primary service, and sustainable service require the nurse's role. Therefore, as a professional, it is nurse's duty to be involved in the government's programs.
"Currently, government has launched Indonesia Sehat (Healthy Indonesia) movement and form a Nusantara Sehat team who will be deployed to many areas in Indonesia, especially rural and remote areas. Therefore, I would like to invite new nurses to join the program for placement in various areas in Indonesia," he said.
Related to the new nurses being inaugurated, there are 5 male nurses and 26 female nurses. Up to this stage, Faculty of Medicine has appointed 1548 nurses.
The average GPA is 3.45 while the average profession GPA is 3.89 and the combined GPA is 3.55. The average study period is 5 years and 6 months and the highest GPA is earned by Tri Handayani with the total GPA of 4.00, Evita Rustianingrum 4.00 and Abin Alkhasanah 3.98.