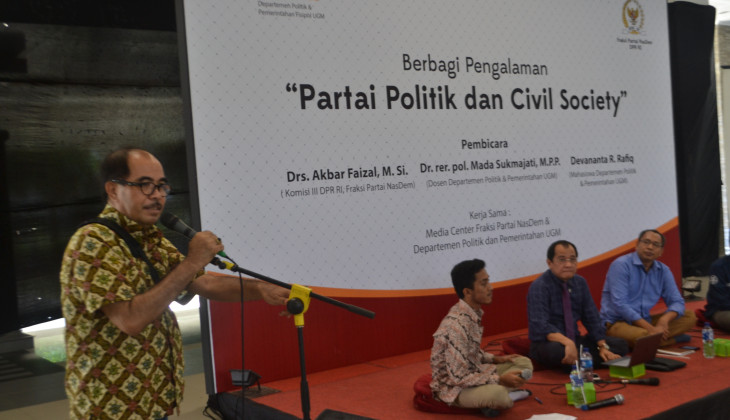 UGM lecturer in politics and government studies, Dr. Cornelis Lay, said democracy process can run well if supported by three important institutions, political parties, parliament and general elections. Despite criticism from some people, the presence of those institutions are much required.
"We can hate or suspect those three institutions, but we can't negate their presence; democracy needs them for a better condition," he said in a discussion at Faculty of Social and Political Sciences UGM on Thursday (26/5).
To make these institutions better, said Cornelis, good political education process is needed for party activists, even for voters and would-be voters.
Cornelis explained Faculty of Social and Political Sciences UGM had enhanced political education programme for would-be voters through the media or direct meetings. "We have directly come to society groups such as students to give political education to young voters. We also give political education to junior high school students around Yogyakarta as would-be voters for 2019," he said.
Cornelis added they also wished to offer political education enhancement to activists and politicians. This has not been implemented so far as it has yet to be welcomed by political parties and politicians.
Akbar Faizal, member of parliament, welcomed the wish because this will synergise the ties between political parties and academics, so, state development target will materialise better.
"We don't want political parties and universities to go alone. I think UGM is right (to say) that political parties need to self-reflect," he said.
Akbar added close links need to be established with society and volunteers as well. Current developments show people's trust in political parties is decreasing to only 39.2%.
In his opinion, it is not easy to gain support from civilians and volunteers. Civil society is so strengthened with the media support. Even so, support from volunteers will grow bigger if leader candidates can grasp the aspirations of the people. "People fall in love with leaders, not political parties," he said.