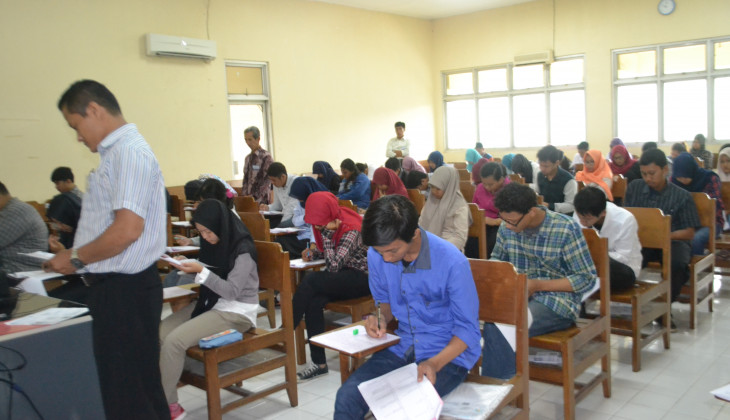 As many as 38,854 students participated in the joint admission test for state universities (SBMPTN) in Yogyakarta on Tuesday (31/5). The venues for the test are UGM, UNY, UIN Sunan Kalijaga, UPN Veteran, and several high schools.
Rector of UGM, Prof. Ir. Dwikorita Karnawati, M.Sc., Ph.D., said the participants in Yogyakarta had increased from 37,963 people last year. The local committee in Yogyakarta, Dwikorita said, had prepared the test well. "The committee has prepared everything well," the Rector told journalists, accompanied by Rector of UPN Veteran Yogyakarta, Prof Dr Sari Bahagiarti, Rector of UIN Sunan Kalijaga, Prof. Drs. H. Akh. Minhaji, MA.,Ph.D, and Vice-Rector I of UNY, Drs. Wardan Suyanto, M.A., Ed.D.

Prof. Dwikorita said in the Paper Based Testing (PBT) there were 38,554 participants while in the Computer Based Testing (CBT) there were 300 participants of the SBMPTN this year. As many as 1,838 lecturers and 2,092 staff in addition to 262 teachers were also involved in the test. There were also 23 people with disabilities sitting for the test. "At UGM there are eight people with disabilities joining the test," she said.
On the Computer Based Testing mechanism that is the first time to run, Chairman of SBMPTN Local Committee 46 Yogyakarta, Prof. Iwan Dwi Prahasto, said they had prepared one computer for each participant and supplied power as high as 200 thousand Watts. The test was also given in stages to avoid cheating. "This is the very first running of the CBT. Each participant has one computer while the tests are given in stages. This mechanism currently only applies to UGM and UNY," he said.
On the so-called 'jockey' or people trying to do the test for somebody else for money, Iwan said that they had also assigned some special monitors who would look for any suspicious acts among participants as well as detect any special gadgets that are used during the test. "We use a special detector to prevent that from happening," he said.