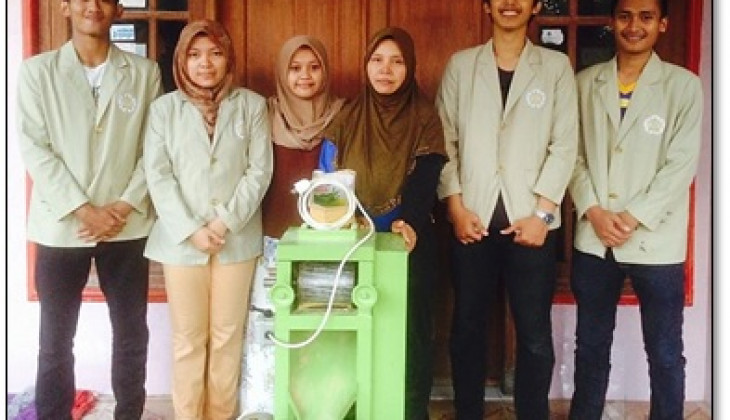 UGM students created an instrument of innovation through the Student Creativity Program (PKM). This time the innovation is in the field of livestock, particularly poultry. They created a technology that provides feed-producing machine called SCOPE "Simple Crusher for Pellets".
The ideas emerge from the difficulties experienced by farmers in the Piyungan are, Bantul, to find BR feed of fine concentrate. In the area, some farmers still survive despite the many of them shifted to partnership poultry.
According to one member of the team, Tiertio Aldino, the small number of farmers who survive face tough conditions since it is difficult to get fine concentrate because of the restrictions of fine concentrate feed production from the factory. In fact, this type of fine feed is needed for feeding chicken at the age of one to two weeks.
"As a result, farmers are forced to manually refine it themselves to make a smooth feed. This is considered ineffective because it requires extra time and effort," Aldino said, Wednesday (15/6).
With the SCOPE, effort and time to refine the feed could be reduced. Initially, it took 1-2 hours to refine 25 kg of feed manually, but it would only take an hour for 100 kg feed with SCOPE. In addition, the SCOPE has ability to soften the corn that can be used as a mix for chicken feed.
"For the future, we hope SCOPE can be mass produced so it can increase productivity for independent chicken farmers in Indonesia to meet the needs of fine concentrate feed and corn. Hopefully, this will be able to improve the welfare of the people," he said.