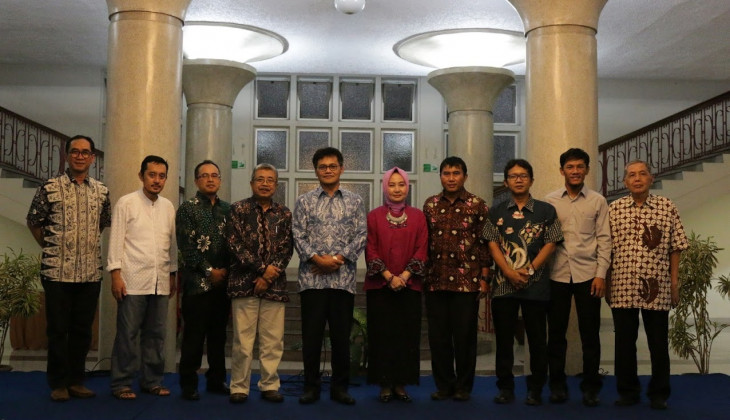 Members of the Board of Trustees (BoT) of Universitas Gadjah Mada for 2016-2021 period were officially introduced on Saturday (18/6). The introductory event took place at the Balairung Hall and was continued by iftaar with Academic Leaders of UGM.
On that occasion, UGM Rector, Prof. Ir. Dwikorita Karnawati, M.Sc., Ph.D., introduced the members of the Board of Trustees to a number of attendees. Members who are present include Prof. Dr. Pratikno, M.Soc.Sc., Prof. Ainun Na'im, MBA., Ph.D., Prof. Dr. Dr. Hardyanto Soebono, Sp.KK (K)., Prof. Dr. Ir. Indarto, DEA., Prof. Dr. Ir. Zaenal Bacharuddin, M.Sc., Subejo, SP., M.Sc., Ph.D., Dr. Arie Sujito, S. Sos., M.Sc., Paminto Adhi, SE., M.Si and Muhsin Al Anas.
While some members were unable to attend are Prof. Dr. Tahir, MBA., Ir. M. Basuki Hadimuljono, M.Sc., Ph.D., Prof. Mardiasmo, Akt., MBA., Ph.D., Ir. Agus Priyatno, Ir. Budi Karya Sumadi, Wisnuntoro, S.E., M.M, Dr.es.sc.tech., and Ir. Ahmad Rifai, MT.
The Board members comprises community leaders, alumni, students, professors and lecturers and education personnel of UGM.
Overall, Board members are selected by the Plenary Meeting of the Academic Senate. Three other members were automatically elected, namely the Minister of Research and Technology, Sri Sultan Hamengkubuwono X, and the Rector.
"We asked all attendees as well as the entire academic community of UGM to support the new Board members who have been elected," said Rector.
In line with the Rector, representatives of the Transitional Board members, Prof. Dr. Sofian Effendi, congratulated the new members of 2016 - 2021 period. Sofian saw about 27 years in the future Indonesia will face an Asian century. At that time, Asia will generate approximately 53% of world GDP. Indonesia along with China and India will be the economic powerhouse of Asia. Indonesia of course requires qualified human resources to be able to compete.
"It became one of the challenges that must be faced by all leaders, including Board of Trustees, to create high quality and innovative human resources," Sofian added