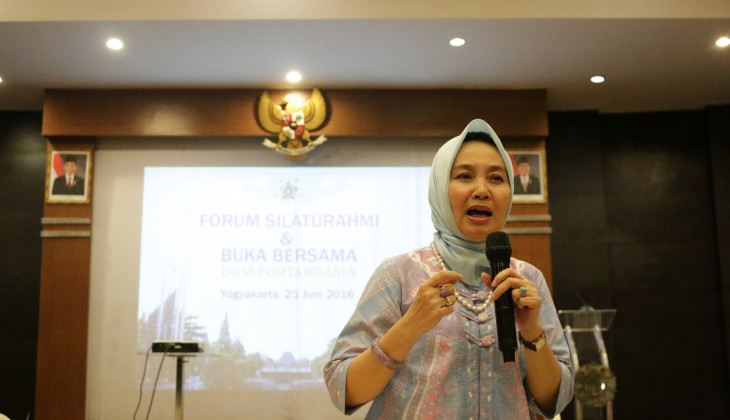 UGM ranking has significantly increased in Asia based on Quacquarelli Symonds (QS) ranking, from 137 in 2015 to 105 this year. Rector of UGM, Prof. Ir. Dwikorita Karnawati, M.Sc., Ph.D., said the rankings were based on indicators, such as academic reputation, student exchange and research.
"This ranking is not the end goal but this would motivate UGM to work better," said Dwikorita to journalists on Thursday (23/6).
According to Dwikorita, QS also sets three criteria, undergraduate and graduate level programme, research in at least two arts and humanities studies, natural sciences, bioscience, social sciences, engineering; and peer reviews.
The Rector explained that in 2015 there were many programmes already accredited, such as Economics and Business (AACSB), Chemical Engineering (iChemE); and 21 study programmes accredited by the AUN whether AUN-AQA (Pharmaceuticals, Chemistry, Medical Education, Biology, Geological Engineering, Civil Engineering, Law, Dentist Education, Animal Sciences, English Literature, Plant Pest and Disease Sciences, Agricultural Industry Technology), Maths, Anthropology, Veterinary Medicine, Psychology, Mechanical Engineering, Economics, and Industrial Engineering), or AUN DIES (Communications and Public Policy Management).
"Some other study programmes are in the accreditation process, including Electrical Engineering and Information Technology, Geodesy and Geomatics, Accounting, Forestry, and Medical Education (renewal)," she said.
UGM Head of Quality Assurance Office, Prof. Dr. Indra Wijaya Kusuma, M.B.A., said this ranking was in line with the data improvement made at the end of 2015. Indra said UGM boosts improvements, among others through internationalisation. For example, the number of international lecturers has increased from 3% to 8%, whilst number of lecturers increasing from . 2,400 to 3,500. "We also publish a newsletter sent overseas and research grants that continue to increase," said Indra.
According to Indra, this year UGM also manages 12 international summer programmes that have Indonesian characteristics but are known to the world. It is expected that with the support from all stakeholders and academic community, the education quality will get better with better recognitions internationally.