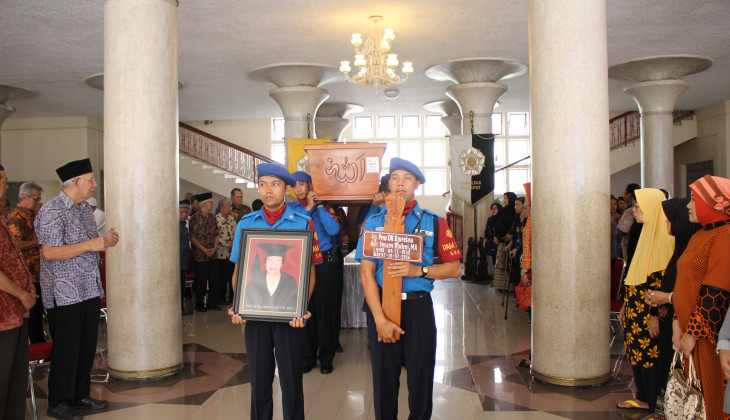 Professor and former dean of Faculty of Philosophy UGM, Prof. Dr. Djuretna Adi Imam Muhni, M.A., passed away aged 83 on Sunday (10/7). During her life, she was one of those dedicating herself to developing philosophy science and study programme at UGM.
Rector of UGM, Prof. Ir. Dwikorita Karnawati, M.Sc., Ph.D., in a ceremony to pay last respect to the deceased at Balairung UGM on Monday (11/7) appreciated her for her big commitment to UGM and Indonesia. An inaugural speech for her professorship entitled Pancasila Human Being that she delivered back in 1997, according to the Rector, has enlightened the implementation of Pancasila values in Indonesia.
"I believe that this has become a legacy that will not perish in time. She is one of the best teachers in philosophy," she said.
Before her retirement in 2003, the lady born on 4 December 1932 held some important positions at UGM, including Head of Eastern Philosophy, Vice Dean for Academic, and Dean of Faculty of Philosophy from 1991-1995. Her dedication that had actively disseminated and developed philosophy science in Indonesia was seen in her scientific publications.
Dean of Faculty of Philosophy UGM, Dr. M. Mukhtasar Syamsuddin, mentioned that Djuretna was one of the figures most influential to the Faculty and also UGM.
"The deceased is one influential figure to UGM, especially in the development of undergraduate philosophy study programme at UGM. She also initiated and founded the S-2 and S-3 programme at UGM," he read out the life history of Prof. Djuretna.
The last ceremony was attended by university and faculty leadership, colleagues, family, and friends. After the ceremony the body was laid to rest at Sawitsari cemetery.