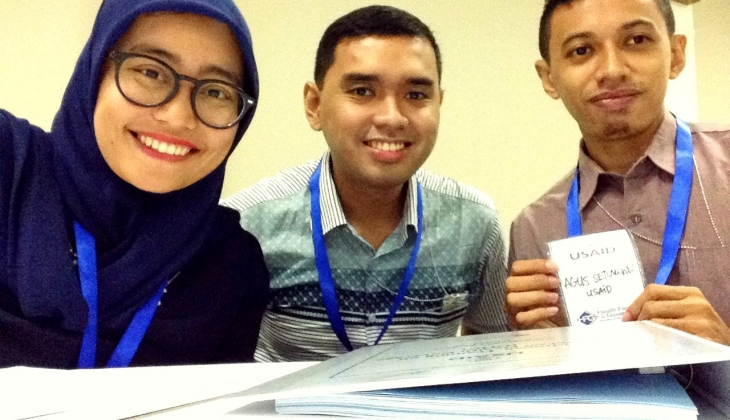 From August 2015 until May 2016, three students of the Graduate School of Medicine UGM had a chance to participate in an internship program at the Health Office of USAID (United States Agency for International Development) in Jakarta. The program is a form of cooperation between the USAID-Indonesia and UGM for the duration between 4-6 months for each apprentice. The focus of the internship of each participant is different, namely the MCH (Maternal and Child Health), Tuberculosis, and EPT (Emerging Pandemic Threat).
During the internship program students have the opportunity to compare what was obtained during the lecture with the real situation. In addition to performing their duties and responsibilities given by the supervisors of related programs, students also get the opportunity to conduct field visits and follow meetings with various ministries, implementing partners including UN agencies, various NGOs, and donor agencies. Not only that, students also participated in the teleconference with their partners abroad.
"During our internship with the Health Office of USAID-Indonesia, we did not feel to be treated as student interns, but we are considered as part of the Health Office team," Rosa said in a press release on Tuesday (19/7).
Rosa added during their internship program they are given equal opportunities to participate, including express opinions at meetings. According to Rosa, the biggest challenge they faced is they are expected to always be creative and innovative in solving problems, including an entirely new problem to them.
"We were not only given the opportunity to present our work in front of the entire staff of USAID-Indonesia, but also provide comments and suggestions for USAID," Leo added.
USAID-Indonesia's welcome to the students was excellent. Since the first day of the internship, they were greeted warmly. They are also involved in the activities of the Health Fair in Jakarta, organized by the US embassy.
"Although we had a different plan after completing the study (working in the field of development or continuing education), the experience acquired during the internship will be very helpful for our career development in the future," Leo said.
Initially, the three postgraduate students did not expect to be selected for the internship at an international institution such as USAID given the selection process is a highly competitive internship program. (UGM/adelily)