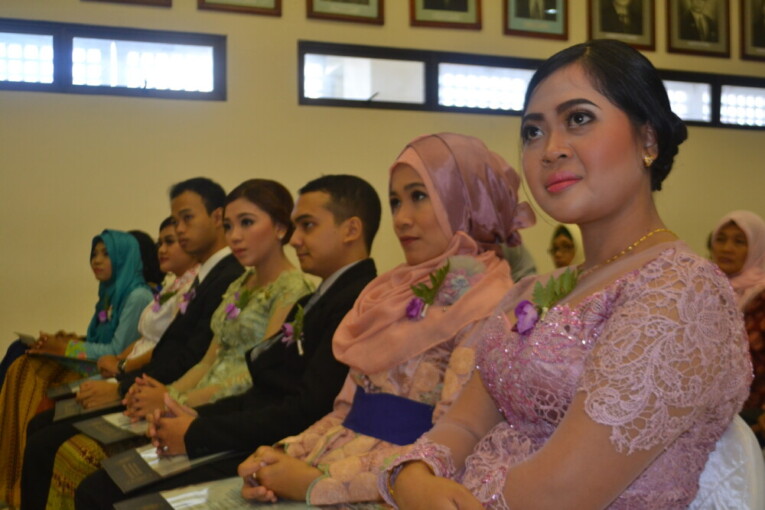 Demands for veterinarians currently reach as high as 20 thousands people across Indonesia, but there are only 12 thousands available. "The demand for veterinarian profession is is still very high, we lack of them in all lines of vet professions," said Dean of Faculty of Veterinary Sciences UGM, Dr. Joko Prastowo, M.Si., during inaugural ceremony of new veterinarians in the Auditorium of the Faculty on Tuesday (19/7). Furthermore, Joko said, UGM has generated 4,723 veterinarians across Indonesia. This time, some 16 new vets are inaugurated.
According to Joko, apart from the number of vets, there is also challenge to the vet role revitalisation for 150 institutions that deal with veterinary health. The current diverse forms of veterinary authorities call for one coordination to handle veterinary health cases.
He added that to meet the demand, the government and higher learning cannot sit still. Higher learning has already opened veterinarian education study programme from five to 11 universities across the country. "There were 5 universities (offering veterinary study programme) previously, now 11, the last being Universitas Padjajaran. Meanwhile, Airlangga University has expanded to Banyuwangi to anticipate possible influx of international veterinarians to Indonesia. We're not pessimistic, however, because Malaysian vet candidates also learn from us (UGM)," he said.
According to Joko, challenge facing vets is not simple as they have to be responsible to protect the veterinary public health and avoid the risk from pests, diseases and external organisms. "All those challenges urge the veterinarians to be a lifelong learner to always renew their science," he said.
Similarly, executives of the Yogyakarta branch of Indonesian Veterinarian Association (PDHI), Dr. drh. Widagdo Sri Nugroho, said that the professionalism of a vet is not enough to improve veterinary health and national husbandry. A vet with a vision to the future who is consistent in encouraging meat self-supply is required. "For a long time, the government has always encouraged meat self-supply, but on the field, there are many contradictory things. We want to increase veterinary population, but we were halted midway, as the policy that is issued is changing all the time. Eventually, meat self-supply is not achieved," he lamented.