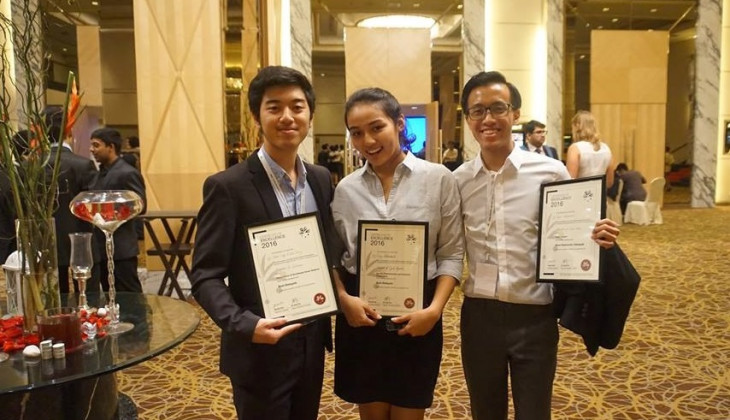 Angelo Abil Wijaya, International Relations UGM student class of 2015 has made another international level achievement. During the Asia Pacific Model United Nations Conference (AMUNC 2016) from 11-16 July 2016 in Istana Hotel Kuala Lumpur, Malaysia, Angelo was named the Best Delegate.
Angelo became the Indonesia's delegate in the Association of Southeast Asian Nations assembly. Angelo said the Asia Pacific Model United Nations Conference this year was attended by over 400 students across Asia Pacific, including from Tiongkok, Japan, Taiwan, South Korea, India, Pakistan, Bangladesh, Indonesia, Philippines, Malaysia, Singapore, Thailand, and Myanmar, also Australia and Mauritius.
"In the Model United Nations, we are expected to participate actively on global issues that are routinely discussed at UN sessions," said Angelo on Thursday (21/7).
He explained there are many things to learn from the Model United Nations, among others, research ability, writing ability, negotiation, public speaking and diplomacy. The Model United Nations is a good platform for the young generation to improve their critical thinking and English language.
As the only representative from Universitas Gadjah Mada, Angelo represents the institution that he chairs since May 2016, UGM MUN Community. In the Model United Nations, he presented an issue on Civil Rights Situation in Cambodia and Electoral Integrity in Southeast Asia.
In May, Angelo was the UGM's delegate and further Indonesia's delegate in the Southeast Asia Movement Conference that was held at National University of Singapore in cooperation with Yale University. The Best Delegate award this time is his second after the The Most Outstanding Delegate he earned at the Nottingham University Model United Nations Champions Cup in February.