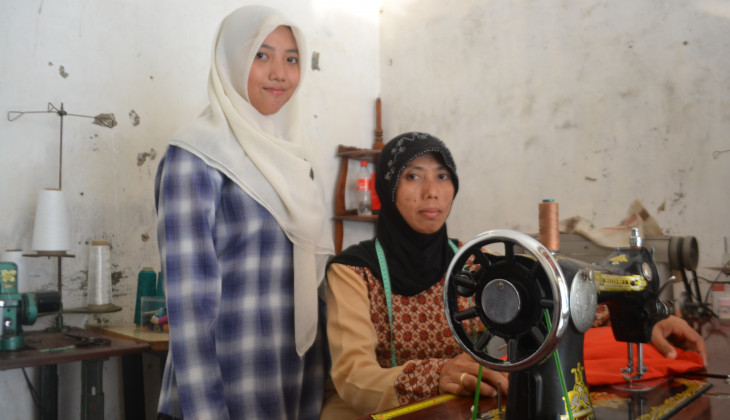 At the outskirt of Blitar, East Java, a small house stands betwen narrow alleys. Mujiyah Srihidayati (42) is busy sewing clothes that are ordered by her neighbours. The sized 4 x 4 meter house lodges two sewing macines and one embroidery machine for the mother of Ika Rizky Fauziah to make her livings. This house, as a matter of fact, belongs to her close friend. After her husband died six years ago, Mujiyah works as a tailor as livelihoods. Not far from this place, a modest house stands that accomodates them and parents.
"After my father died, we live here together with granny," Ika Rizky Fauziah Abdullahm said.
Mujiyah can have 2-3 orders a day, but it may happen that there is no order at all for the whole week. The payment, however, has to be shared with the people who start the business.
Despite her irregular income, Mujiyah has to support her children and parents. She is thankful, however, that she can still support her family. Mujiyah also has a strong will to send her only daughter to college.
The daughter, Ika, never complained of their situation. She wants to make her mother happy and proud with what she did. Ika also regularly earns scholarships due to her good achievements. At her high school, SMAN 1 Blitar, Ika has always been in the top ten. Her good command of English had even sent her to the U.S.A. for student exchange that last for one year.
Ika grew interested in diplomacy after her student exchange programme. Then, she applied to be accepted at International Relations UGM during the opening of entrance tests. She was very thankful, moreover when she learned that she earned another scholarships, Bidik Misi, for full tuition. She knows she would not need to burden her mother with university expenses.
Her daughter getting admitted at UGM is a blessing for Mujiyah, signifying her prayers have been answered. "I always pray at night to God to give us guidance, that's all I can do," said Mujiyah; her eyes wet.
Studying at UGM has been Ika's dream since her childhood. Her choice of International Relations, according to Ika, is a step to achieve a bright future.