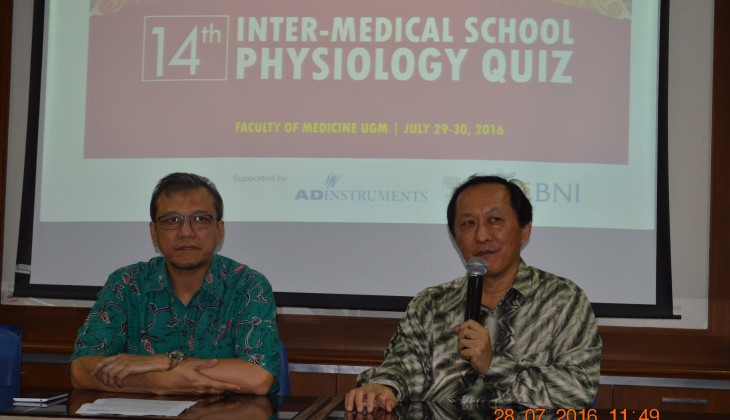 Faculty of Medicine UGM should be proud because it is trusted to host the 14th Inter-Medical School Physiology Quiz (IMSPQ) 2016. This is the first time of IMSPQ to be held outside Perubatan Faculty of Universiti Malaya, Malaysia.
"UGM is an active participant in this competition. They always send a representative to every IMSPQ, and when we contact them to host the 14th IMSPQ they said they will be willing to host," Prof. Cheng Hwee said, in the Auditorium of the Faculty of Medicine, Thursday (28/7).
As the initiator of IMSPQ, Prof. Cheng Hwee, feels grateful for the progress of the competition. The first IMSPQ in 2003 was only joined by 7 students and now in 2016 it will be attended by 349 medical students.
"Of course, we are pleased by this development. The competition is able to influence the development of physiology in the world," he said.
Chairman of the committee, Dr. dr. Dicky Moch. Rizal, Sp.And, AIFM, Kes., describes IMSPQ as the Olympics among medical students from various medical schools in the world to compete. The 14th IMSPQ will be followed by 80 teams from 20 countries, namely Bosnia, Brunei Darussalam, Cambodia, China, Hong Kong, India, Japan, Jordan, Laos, Malaysia, Myanmar, Nepal, Pakistan, Singapore, Sri Lanka, Taiwan, Thailand, the Philippines, Vietnam, and Indonesia. This physiology Olympiad also involves 113 lecturers.
"For medical students, this event has become a forum to strengthen the basic science of physiology so that they can learn to understand the body's performance system," Dicky said.
The 14th IMSPQ will take place for two days from 29-30 July, 2016 at the UGM's Faculty of Medicine. The competition will be preceded by a written test joined by all participants. As many as 40 best team will be chosen to go to the next round. They will then undergo an oral test for 3 stages. While in the final stage, 3 best teams will be chosen as the Olympic winners.
Dicky Moch. Rizal expects that this competition can measure the capacity of medical students as well as strengthen the relation among medical school. In addition, it is expected to foster the passion and skills of students as well as professors in the field of physiology to face international competition.