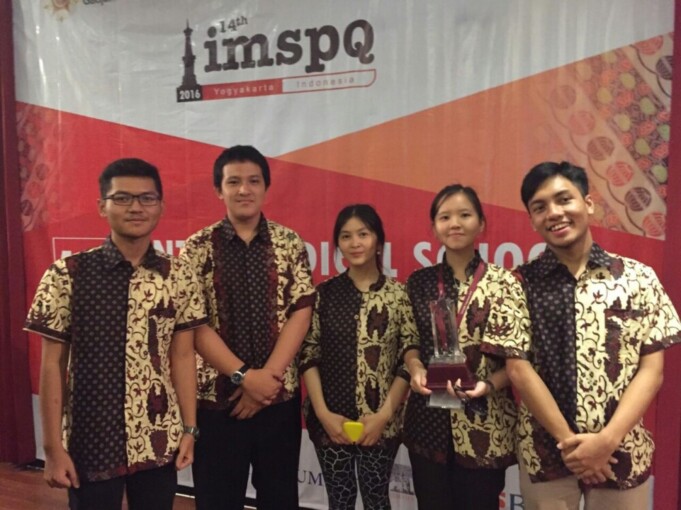 Universitas Gadjah Mada's Medical students team have won first place awards in the 14th Inter-Medical School Physiology Quiz (IMSPQ), held at the Medical Faculty UGM from 29-30 July 2016. The team consisting of Alfin Harjuno, Aditio Artyasa, Fitrawan Silvano, Maria Patricia, and Yolanda Kadir beat other 81 teams from around the world.
IMSPQ is medical students Olympiad to compete in physiology; this time involves 349 participants from 23 countries,including Bosnia, Brunei Darussalam, Cambodia, China, Hong Kong, India, Japan, Laos, Malaysia, Myanmar, Nepal, Pakistan, Singapore, Taiwan, Thailand, the Philippines, and Indonesia.
Fitrawan Silvano from UGM team expressed his excitement and pride for their win thanks to the hard work of the whole team and support from lecturers, faculty and university.
"Last year the UGM team won first place in the IMSPQ in Malaysia. Obviously, we were very happy to be able to retain the prestigious championship," he said on Saturday (30/7) on campus.
Fitrawan admitted their struggle was not easy as they are all freshmen students at UGM. "All of us are freshmen, so we have not much experience yet. We had to fight hard in this competition," he said.
Even so, they were very excited to join the competition, doing their best in every stage of the tests that had run rigorously. There were three stages in the competition, namely, written test, oral test in the semifinals, and quiz in the finals.
"Three best team had to compete hard in the finals and the UGM team finally defeated Mahidol University from Thailand, and De La Salle University Health Sciences Institute from the Philippines," he said. They hope in thefuture they can make more prideful achievements for UGM.