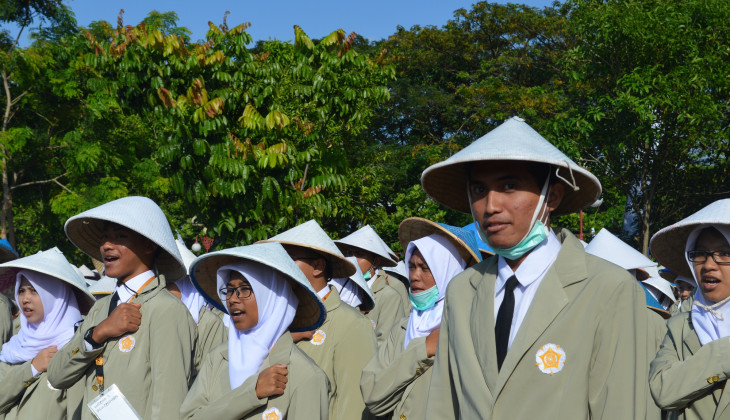 Universitas Gadjah Mada for 2016/2017 Academic Year accepts as many as 8,745 new students, consisting of 6,551 undergraduate and 2,194 diploma level students.
A ceremony to welcome the new students was conducted in the square of Grha Sabha Pramana, Bulaksumur, UGM on Monday (1/8), led by Rector of UGM, Prof. Ir. Dwikorita Karnawati, M.Sc., Ph.D. This was marked with a university jacket wearing from the Rector to representatives of the students.
UGM Education and Teaching Director, Dr. Agr. Ir. Sri Peni Wastutiningsih., said there were 242,779 high schools applying for courses in 67 study programmes, while in diploma programme there were 37,979 schools for 20 study programme. Of the 8,745 new students, 43.72 percent are male while 56.28 female," said Peni.
As a national university, this year UGM accepts students from across Indonesia. All provinces are represented here this year although the biggest part still hails from Java.
Meanwhile, there are 106 new, international students at UGM, coming now from Hollands, Germany, France, Denmark, Japan, Korea, Austria, Norway, Sweden, China, Thailand, and Malaysia.

"The international students follow the double degree or graduate degree programme. Meanwhile, the youngest student this time is Nida Aqidatus Sholikhah who is accepted at Vocational School, Medical Records, at the age of 15 years and 16 days old," said Sri Peni.
In this event, UGM also awarded outstanding students who made national or international achievements in 2016. Student Affairs Director, Dr. Senawi, M.P, said until July 2016, there were 185 students achieving national awards, while internationally there were 37 students with awards. "Total awards for UGM students in 2016 nationally and internationally are 98 gold, 66 silver and 58 bronze medals," said Senawi.

In the induction event, attractions were given, including martial arts, marching band, equestrian, and parachuting. The new students were also given a motivation by Central Java Governor, Ganjar Pranowo, who also chairs Alumni Association (KAGAMA). He asked them to develop their knowledge in many sectors from economics to law.