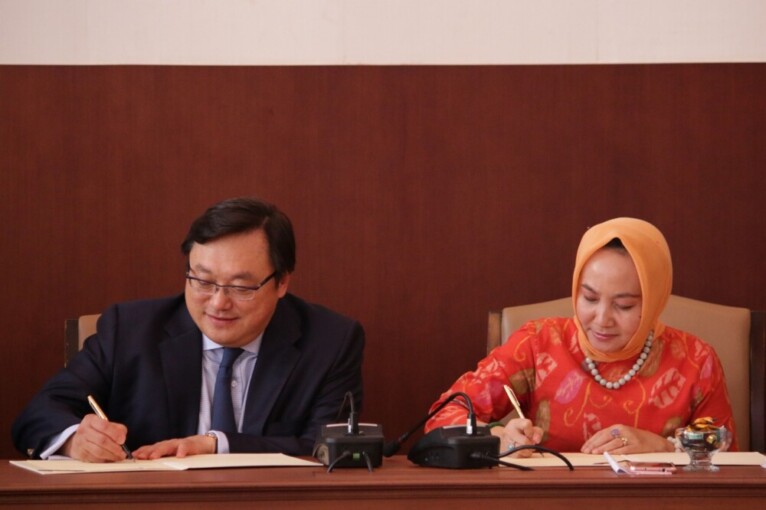 Universitas Gadjah Mada and Six Capital signed an MoA (Memorandum of Agreement) on Center of Excellence in Digital Economy and Center of Excellence for Financial Trading on Friday (5/8) at UGM Conference Room. Attending the event were Rector of UGM, Prof. Ir. Dwikorita Karnawati, M.Sc., Ph.D., Patrick Teng (Founder, Chief Dealer Excecutive Chairman), Suryo Bambang Sulisto (Chamber of Commerce Chairman 2010-1015), Dr. Rahmat Waluyanto MBA (Deputy Head of Commissioner of Financial Services Authority), Prof. Wihana Kirana Jaya, M.Soc.Sc., Ph.D. (Dean – Faculty of Economics & Business UGM), Dr. Paripurna, S.H., M.Hum., LL.M. (Vice-Rector for Cooperation and Alumni UGM), and other directors from SIX Capital. The MoA was signed by the Rector, Prof. Ir. Dwikorita Karnawati, M.Sc., Ph.D. from UGM, and Patrick Teng from Six Capital.
Six Capital is an analyst company based on financial technology (Fintech) with its HQs in Singapore. Both parties will set up Digital Laboratorium Center of Excellence Digital Economy that focuses on R&D of financial technology (Fintech), training center, financial trading and currency stabilization.
The Rector said that to meet the global challenge it needs a transparent, rapid, and accurate digital technology development. Mentioning the high number of productive HR in Indonesia at 75%, she said,"We are demanded to develop a sovereign digital technology."
Similarly, Patrick Teng said with the second biggest population in Asia, Indonesia will be one of the best digital economies in Asia. Six Capital starts to work with companies from around the world, including UGM. "With UGM, we will establish Indonesia as The Largest Digital Economy in Asia as voiced by President Joko Widodo," said Patrick Teng.
UGM will be at the forefront of technology innovation (Fintech) to go along with the vision of the President to realise the Digital Economy 2020. This can be implemented through technology in various areas, such as finance and health that are wide spread, quick and accurate. "The development of Digital Economy is in line with the vision of UGM that serves the society," said Vice-Rector for Cooperation and Alumni of UGM, Dr. Paripurna.