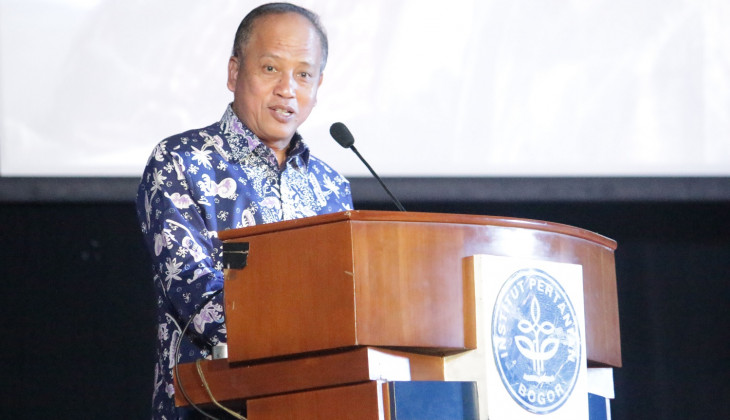 ‹›
Research, Technology, and Higher Learning Minister, Mohamad Nasir, opened the 29th National Student Scientific Week (PIMNAS) 2016 at Bogor Institute of Agriculture on Monday (8/8). He hoped the event would generate innovations that are able to bring Indonesia to compete at the international level.
"Events like this have to be organised to seek people of excellence in making innovations. Innovation is important for independence as well as competitive leverage of a nation," he said during the opening ceremony at the Graha Widya Wisuda IPB.
He appreciated the students who had shown excellence through research and innovation. They need to be supported so as to be able to progress. He promised to always support these outstanding students.
"Should there be student innovations that can go the industry or international competitions, we will surely facilitate them," he said.
He further asked the higher learning to increase innovations. He said his Ministry was drafting the mechanism that allows researchers to focus on their research instead of administrative work and financial report related to the research. "Research should be seen as something interesting, not just a duty," he said.
He also wanted the PIMNAS to be a moment of togetherness for the students from all over Indonesia to give motivation and encouragement for innovation to each other.
Similarly, Rector of IPB, Prof. Dr. Ir. Herry Suhardiyanto, M.Sc., in his remarks said," We tried to make the 29th PIMNAS apart from competition arena for students and universities, also a forum for togetherness to enhance unity, a forum for sharing knowledge and experience between students and supervising lecturers," he said.
This time, the event is the biggest ever to run as it is joined by 460 teams from 145 universities from across Indonesia. It will see presentations, poster and product exhibitions, workshops on student affairs and student organisations, Investment Summit, social gathering, environment awareness, High School Goes to PIMNAS, sporting events, bazaar, and city tour. UGM is the biggest contingent here with 33 teams.