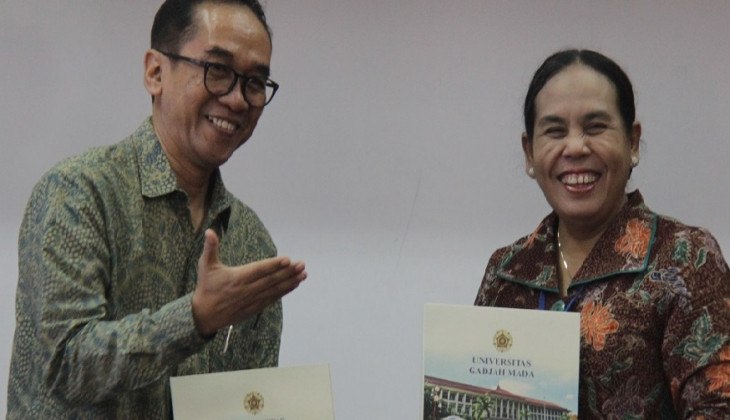 To develop human capacity, potential, and resources, the Education and Training agency in the Finance Ministry and Universitas Gadjah Mada have agreed to form a cooperation in education, research and community service, and HR development. The agreement was signed by Sumiyati, Ak., M.F.M., Head of the agency and Dr. Paripurna, S.H., M.Hum., LL.M, UGM Vice-Rector for Cooperation and Alumni.

The cooperation covers diploma, undergraduate and graduate programme education that includes training, study and management of state finance, assistance from experts, workshop, seminar, etc.
In the office of Board of Professors of UGM on Thursday (11/8), Sumiyati said the Finance Ministry has the programme to educate society on finance matters, hence collaborating with universities across the country to accelerate finance education. Sumiyati said UGM had opened programme for a number of the Ministry's staff, hoping that both parties would be able to manage together between theories and practices in order to equip the graduates with more skills. She further appreciated UGM for its response to the capacity building project in terms of state finance.
Dr. Paripurna said UGM was honoured to be trusted by the Ministry for the cooperation, saying, "This is a mutually beneficial cooperation. We hope this would be a crucial and critical cooperation that can give us better perfomance," he said.