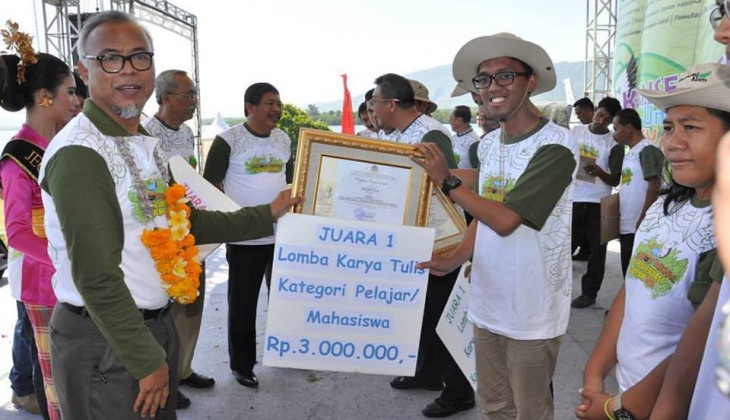 Abdullah Faqih, student of Sociology Department, Faculty of Social and Political Sciences Universitas Gadjha Mada, was awarded as the first winner of Scientific Writing on Nature Conservation by the Minister of Environment and Forestry. This competition was held to celebrate National Nature Conservation Day. On the competition, Faqih brought Local Wisdom of Ngata Toro Native People in Central Celebes into writings as a way to manage conservation area, Lore Lindu National Park.
According to Faqih, the local wisdom implemented by Ngata Toro people plays an important role for the sustainability of the conservation area. Faqih also explained that local people have built harmonious relation with the government on conservation effort.
"The act must be copied by other conservation areas in Indonesia that commonly have conflict with the government," said Faqih, Monday (15/8).
The achievement that was snatched by Faqih gave him an opportunity to join Jambore Hari Konservasi Alam Nasional 2016 event. The annual camp was held at the West Bali National Park, Bali Province from 8 to 11 August 2016. There were 300 participants who are representatives of national parks, natural resource and ecosystem conservation institutes, and conservation ambassadors from across Indonesia.
Meanwhile, the Minister of Environment and Forestry appreciated the winners of national scientific writing and photography from 1 - 31 July 2016. The winner of the student category is Abdullah Faqih from Universitas Gadjah Mada, and Emeraldo Siregar, Gatra magazine, in the journalist category. General Director of KSDAE, Dr. Ir. Tachrir Fathoni M.Sc., at the same event said that he hopes the young generaton will keep playing their role to help government to succeed the conservation program.