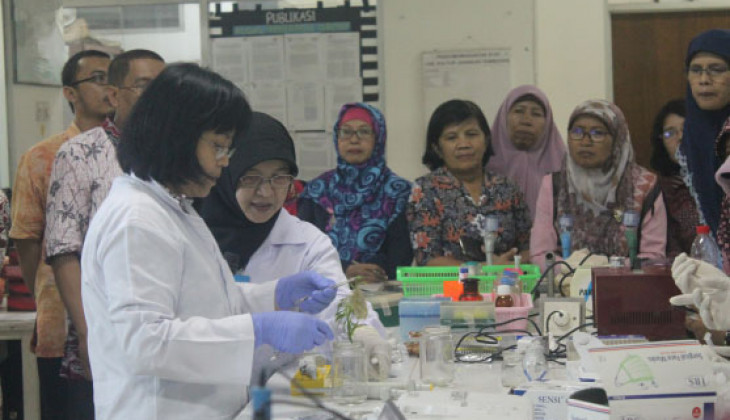 A total of 33 high school biology teachers in Yogyakarta join the training activities of isolation and DNA amplification organised by the Faculty of Biology UGM on Friday, August 12, 2016. The activities aimed to improve the ability, skills, and competencies of high school biology teachers in the city of Yogyakarta.
The training was held in a series of annual agenda of High School Biology Teacher Congress (MGMPs) in cooperation with the Faculty of Biology. On the occasion, the teachers are not only given theory, development, and application of the latest research but also introduced to the basic skills of biology, particularly related to the isolation and amplification of DNA.
Chairman of the event, Drs. Sigit Nurwanto, expressed his gratitude to the Faculty of Biology that has provided the opportunity for teachers to practice Biology isolation and DNA amplification with PCR. These activities help teachers in the learning process in schools and to prepare students who will advance to National Science Olympiad.
"Isolation and amplification of DNA are materials with a large portion in the Olympiad. Therefore, this activity helps us prepare the students for that event," said Sigit.
Vice Dean for Research and Community Service and Cooperation of the Faculty of Biology, Dr. Endang Semiarti, said that this activity is expected to support students and teachers in Biology learning activities, primarily associated with the practice of isolation and amplification of DNA. She also hoped that the students will be able to achieve maximum results in the Olympiad.
In addition to the practice of isolation and amplification of DNA at UGM, they have previously also held a seminar on the working mechanism of nerve, respiration in plants, and DNA fingerprinting. The activity presents a number of speakers from the Faculty of Biology.