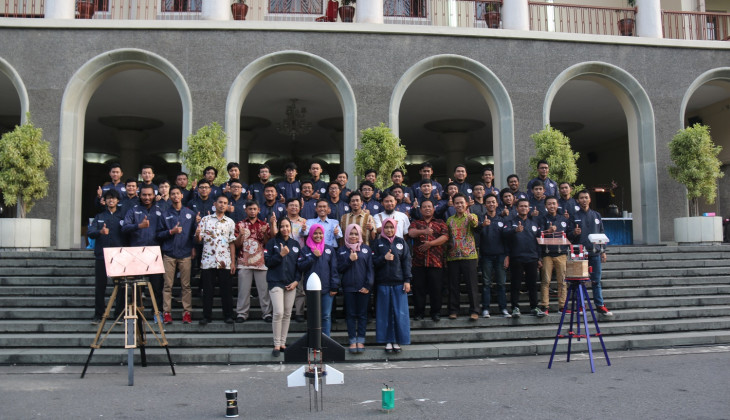 UGM dispatch its 46 students joining Gadjah Mada Aerospace Team (GMAT) to the Indonesian Rocket Loads Competition and Indonesian Rocket (Komurindo) as well as Atmospheric Balloon competition (Kombat) from 24 – 27 August 2016 at the Airforce airbase in Pameungpeuk Garut, West Java. They are dispatched in a ceremony at Balairung UGM on Monday (22/8) by Dean of Faculty of Engineering, Prof. Ir. Panut Mulyono, M.Eng., D.Eng., UGM Student Affairs Directorate Secretary, Agus Hartono, S.E., M.Ec.Dev, and GMAT supervising lecturers.
GMAT will participate in all categories of the competitions, which are rocket loads, Indonesian rocket, and atmospheric balloon category. Last year GMAT won in two categories, rocket loads (first winner) and Indonesian rocket (second winner). "We hope to become the winner of all categories this time," said GMAT chairman, Edo Probo Laksana.
Agus Hartono said the hard work given by the GMAT to win the competition deserves appreciation. For one year they have prepared themselves for the event. Agus said it was not easy to join the competition as the selection was rigorous.
Prof. Ir. Panut Mulyono said the GMAT team is the UGM Ambassador that will make the UGM proud. He said the success of GMAT to go to the final round is already an achievement, but winning it is more. "Being a winner is not the goal, but the process to that goal has given us all a huge learning," he said.