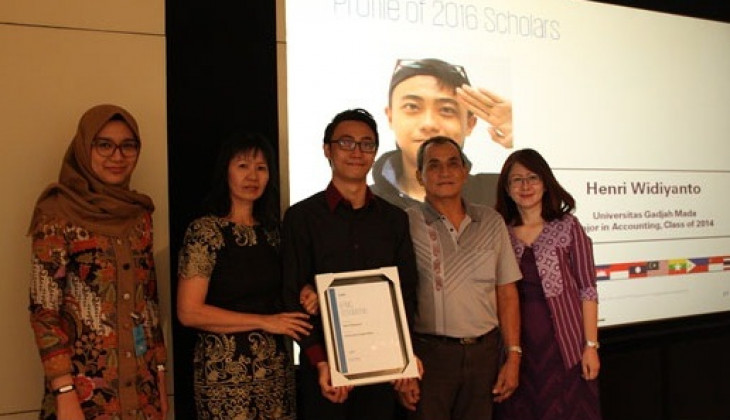 Henri Widiyanto, Accounting student at Faculty of Economics and Business UGM became the only UGM student to receive the KPMG ASEAN Scholarship 2016. It is a prestigious scholarship presented to ASEAN freshmen and sophomore students.

"The scholarship programme is open to first year and second year students. Opening career opportunities for students after graduation, it attracts much student's attention," said Henri Widiyanto at UGM on Tuesday (23/8).

Henri said to get the scholarship, thousands of applicants are selected and the one going through will do five online tests based on KPMG Singapore. This year as many as 30 students out of thousands are invited to Jakarta to do an assessment where they do tests in English Writing Skills, Forum Group Discussion, Business Case and Presentation.

"An interview is conducted with partners of KPMG, and finally eight best students are selected as KPMG ASEAN Scholars 2016," he said.
Henri explained the benefits to be gained by the students who are receiving KPMG ASEAN Scholarship, for example education allowance for three years, paid internships in Jakarta Head Quarters and one of ASEAN countries (Singapore, Malaysia, or Thailand).

"The thing that attracts the most attention is a career contract with KPMG after graduating, also joining KPMG Annual Gathering with around 800 staff from KPMG Indonesia," he said.