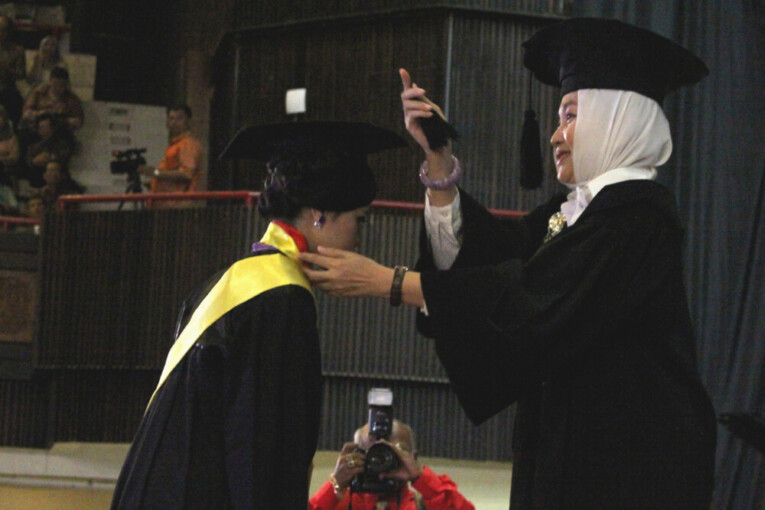 Universitas Gadjah Mada inaugurates 1,616 undergraduate students that include 20 international students with average study time 4 years and 5 months. The fastest study time, 3 years, 4 months, and 24 days, is completed by Agatya Wahyu Vara Rozi from Accounting UGM. The number of students who graduate cum laude is 36.82 percent. The average GPA is 3.36. The highest GPA of 4.00 is achieved by Yusfikriyya Rachima from Veterinary Science Education study programme.
Rector of UGM, Prof. Ir. Dwikorita Karnawati, M.Sc., Ph.D., in her remarks advises the new graduates of three things. First, they have to be the driving force for civilisation progress. Second, to be agent of social change for a better Indonesia, and third, to be a lifelong learner. "Becoming a lifelong learner, you should all make UGM as your partner and be a productive alumni," she said in Grha Sabha Pramana hall on Wednesday (24/8).
The Rector hopes the knowledge that has been gained by the graduates can be made of good use for society and the nation. "Your engagement is awaited by the society to build Indonesia in the next few years," she said.
Still at the times of national independence celebrations, she further reminded the alumni to follow the example of national heroes in fighting for independence. "You should all keep fighting to sustain the sovereignty and make smart innovations for people's welfare and state prosperity," she said.
During the graduating ceremony event, Public Works and Housing Minister Basuki Hadimuljono, who is alumnus of UGM, attached a pin of alumni membership to one graduate.