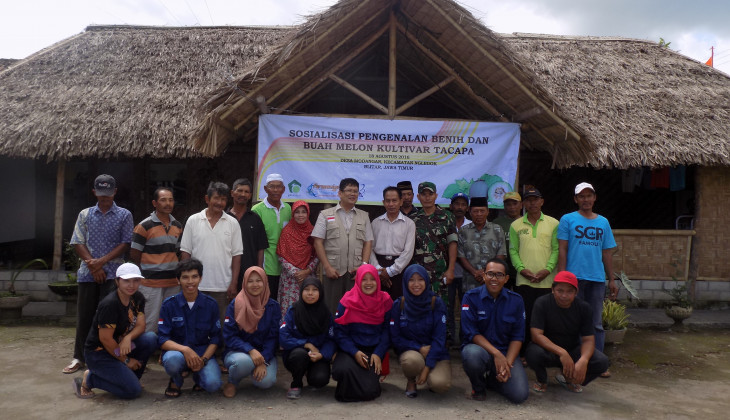 The Gama Melon team from Faculty of Biology UGM teamed up with the local people of Modangan village, Nglegok area, Blitar in East Java to grow Gama melon, a melon variety research product from UGM. Handover of seeds of melon cultivar Tacapa GB, Tacapa Silver, and Hikapel was done last week in Blitar from UGM to H. Sudjari, the village representative.
Dr. Budi Setiadi Daryono, chairman of Gama Melon team, said on Friday (26/8) currently the research by the team was coming to the downstreaming of research product that had been validated and certified by the Agriculture Ministry. .
The team also collaborated with the industry to build a new greenhouse in the area for duplication and development of local seeds through seed growers.
Budi added the collaboration with the melon farmers in Blitar was to support the effort to build the village as an agrotourism village. Sudjari admitted presently the village had difficulties meeting demands for melons amidst the increasing tourist visits.
Blitar regency in 2015 had 4 greenhouses that produces melon where visitors could pick the melon and enjoy it directly on the farms. But problems have arisen due to the low production of varities. A collaboration with UGM is therefore required to improve the concept of Melon Agrotourism Village which is the only one existing in the country.