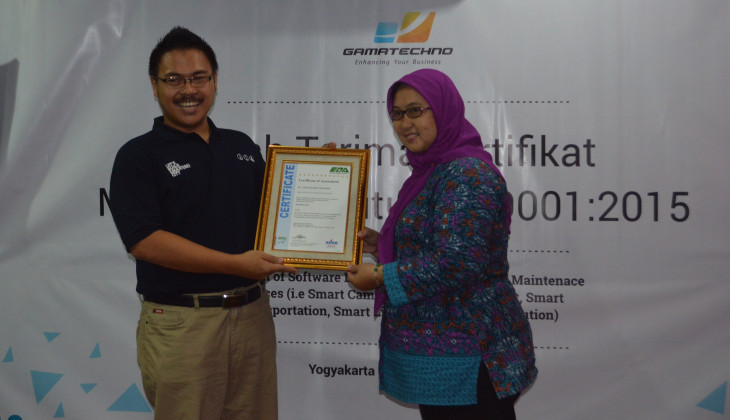 Gamatechno has been certified ISO 9001:2015 by European Quality Assurance (EQA). The ISO 9001:2015 is given for the aspect of Provision of Software Development, Delivery and Maintenance Services (i.e. Smart Campus, Smart Government, Smart Transportation, Smart Lifestyle, Smart City Solution).

The certificate was handed over by Head Officer of European Quality Assurance (EQA) of Semarang, Fahmia Savitri, to Director of Gamatechno, Adityo Hidayat. Also attending the event were Retno Ayu Dewi (Auditor of EQA), Gamatechno and Aino management.

"Alhamdullilah, we have been waiting for this certifate for a long time since the establishment of PT. Gamatechno. With improvements that are continuously made, in the past three years we have tried to formalise it, now it's attainable," said Adityo Hidayat at Gamatechno on Tuesday (30/8).

For Adityo, the ISO is a commitment of PT. Gamatechno on three things which are continuous improvement, customer satisfaction, and commitment to keep the trust. The ISO 9001:2015 is a munition for Gamatechno in dealing with the MEA. Many international IT vendors have run in Indonesia already.

"Now with the ISO we are in the same position. Some of our products have been requested by Myanmar and Osaka University Tokyo. In Japan we develop the panic button system for earthquake, bombing, etc," he said.
Fahmia Savitri said ISO 9001:2015 is the newest ISO version which have not been implemented by many companies. Gamatechno as UGM business venture under Holding Company Gama Multi Group is the first to do so. Its duty next is to maintain customer satisfaction and continous improvement.