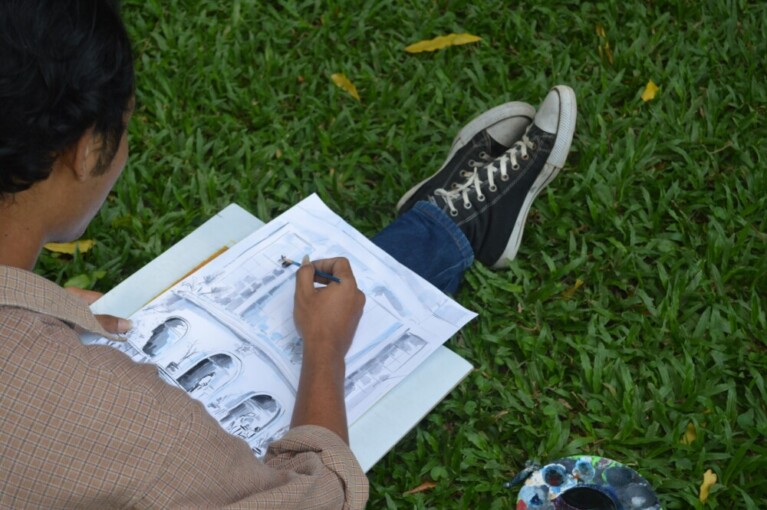 UGM Graduate School (SPs) has organised a sketch competition for students in Yogyakarta to celebrate its 33rd anniversary. As many as 75 students joined in the event from S1, S2 and S3 levels.
Dr. Kris Budiman, member of event committee, said the competition was run amidst the growing interest in sketches among people. Almost in all big cities such as Jakarta, Surabaya, Bandung, Semarang, Denpasar, Yogyakarta, sketch communities are growing.
Kris Budiman said at the School on Thursday (1/9) that there was positive development in sketch arts recently. This art is of no lesser grade than any other drawing arts. Sketch is an autonomous art, independent with its unique characteristics.
"To draw a sketch is daring, because many people can see it when they are doing it. The trend is to make sketches outdoor instead of in the studio or on the spot," said the lecturer in Culture and Media Studies of the School.
He explained of the 75 sketches that were competing, five best would be selected, but all 75 sketches will be exhibited at the School on Thursday, 8 September 2016 during results announcement. Juries are Ir. Eko Prawoto, M.Arch (artist and lecturer from Universitas Kristen Duta Wacana) and Dr. Budi Irawanto (lecturer in Communication Studies UGM).
"The development of sketch art has been great. May be it is because it is practical, doable anywhere with only papers and any drawing tools," said Kris Budiman.
In the event to mark the celebration of the School with the theme Arts and Science, other competitions are organised including in sports and scientific speech, as well as Family Gathering.